To share a dashboard, go to a project's home page & just click on the View button against the dashboard in Dashboards tab. This will direct you to the dashboard. On the top right side, below the title, you will find a drop down titled Export Dashboard. Click on an option to export the dashboard.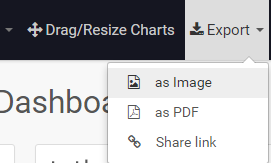 There are 3 ways to share a dashboard:
Export as PNG - to export dashboard as an image
Export as PDF - to export dashboard as a document
Share link - you can share viewable link to dashboard. In order to view this link, a user must be assigned a Viewer/Creator access to the project. To read more about user roles, please refer to User & Access Management
On exporting as PNG/PDF, you will be able to download a PNG/PDF file to your local machine.