Retail KPIs & Metrics help businesses evaluate retail performance, identify areas of growth and increase revenues. Here are the top 5 Retail KPIs & Metrics that you can track regularly for your business.
Top 5 Retail KPIs & Metrics to Monitor Regularly
Here are the 5 key retail KPIs & metrics you can track on a daily or weekly basis.
1. Sales Per Square Foot
Sales per square foot is one of the most fundamental retail KPI metric and measures the amount of sales per square foot of sales space(excluding fitting rooms and stockrooms).
It is a good indicator of how efficiently retailers use their floor space to make sales. It is a great retail KPI metric for planning store layout and merchandise.
You can measure sales per square foot every week/month to analyze how it changes over time.
Further, you can even breakdown sales per square foot for each product category (apparel, mobile, grocery) to determine lucrative categories for your business. In fact, it is one of the best retail benchmarking metrics for every business.
Bonus Read : Top 5  Content Marketing KPIs & Metrics to Monitor
2. Gross Profit & Net Profit
Profit is the lifeline of every business. You can run your retail store only as long as it rakes in good profits.
Gross Profit and Net Profit are two key retail KPI metrics for online as well as offline retail stores.
Gross Profit measures profit made by deducting cost of goods sold from product sales
Gross Profit = Sale Revenue – Cost of Goods Sold
Gross profit is useful in identifying profitable products, and categories. If any product has low gross profit, then you can look into sourcing it elsewhere, to lower costs. So monitor product-wise gross profit, in addition to measuring overall gross profit.
Net Profit basically deducts total expenses (including administrative costs, operating expenses, salaries, etc) from net sales.
Net Profit = Total Revenue – Total Expenses
Net Profit tells you whether your business is profitable or not. This will tell you if you need to reduce operating expenses.
Also Read : Top 5 Project Management KPIs & Metrics to Track Regularly
3. Average Transaction Value
Average Transaction Value is one of the most important online retail KPIs that tells you the average amount of  money spent by your shoppers.
Average Transaction Value = Total Revenue/No. of Transactions
A high average transaction value indicates that customers are buying high value products & goods.
If this KPI metric is low, then you can try increasing prices, upselling, cross-selling and bundling strategies to increase average order value.
Also Read : What makes a good KPI Dashboard
4. Conversion Rate
Conversion rate is the percent of store/website visitors that actually make a purchase.
Conversion rate = No. of sales / Total Number of visitors
It is important to regularly measure conversion rate to understand if you are attracting the right people to your store/website.
You can increase conversion rate by talking to your customers. Understand:
what they are looking for
problems they face
their preferred brands
their budget
Re-arrange your store/Redesign your website to make it easy for visitors to get what they want on their own as they navigate your store/website.
Also, determine if you are attracting the right people to your store/site. If not, then review your promotional strategy.
Bonus Read : Top Ecommerce KPIs & Metrics to Track
5. Sales Growth
Sales growth is another essential KPI metric you must track for your business. Depending on the nature and pace of your business, you can track annual, quarterly or monthly sales.
This will tell you how fast your business is growing. Initially, you can measure overall sales growth for your retail store/website.
As your sales grows, you can also monitor sales by category, or products to understand which products drive most of your sales.
Monitoring sales trends also helps you analyze the impact of your marketing campaigns.
Create a retail dashboard using a tool like Ubiq to track these retail KPIs and metrics regularly.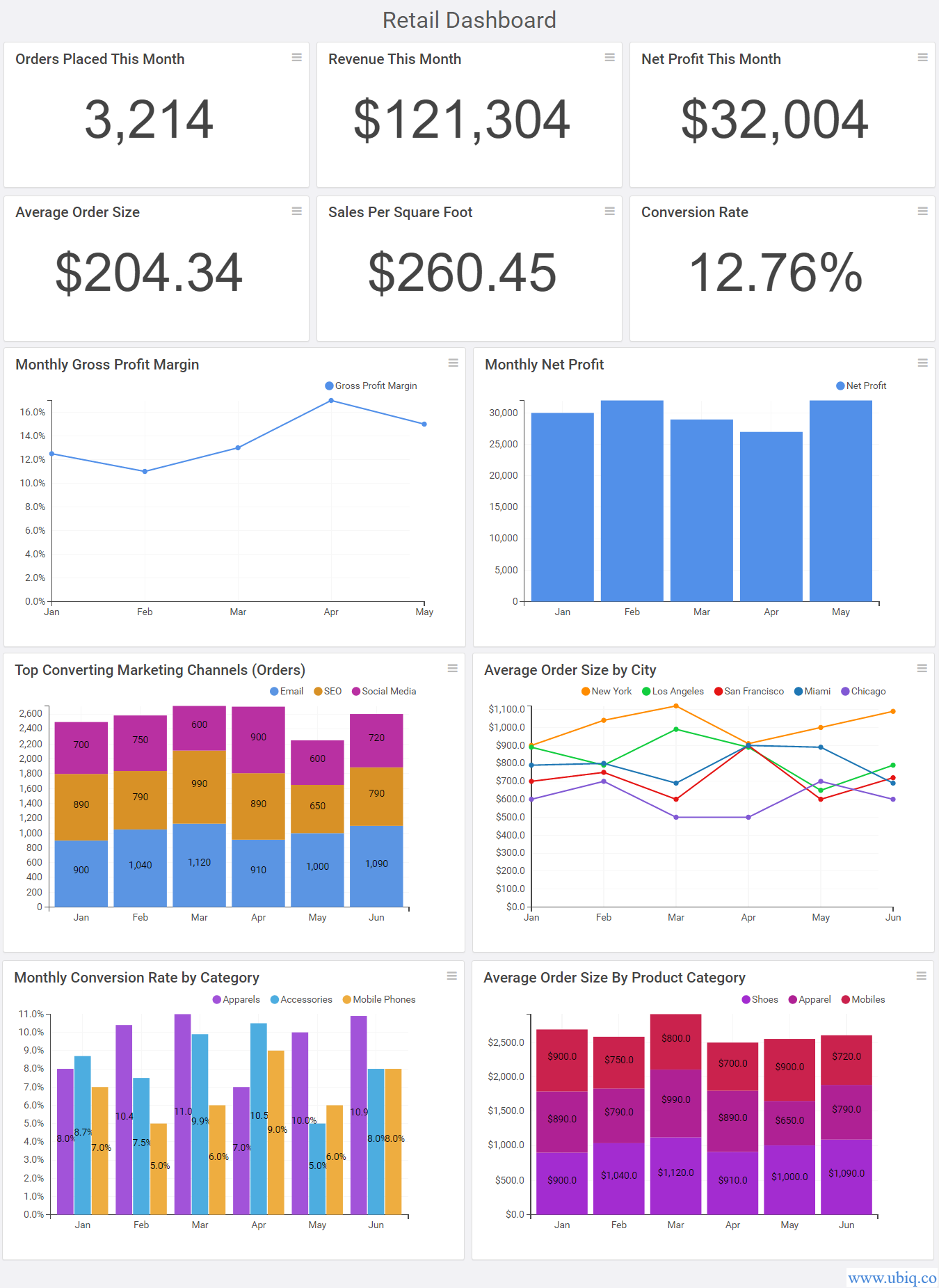 Hopefully, the above retail marketing KPIs and metrics can help you measure retail performance, increase store productivity and get more sales.
Ubiq makes it easy to visualize data in minutes, and monitor in real-time dashboards. Try it Today!