Executive dashboards allows senior management executives and VPs to get a comprehensive overview of their organization, business area or department, get data-driven insights and make better decisions. They also help executives measure strategic performance, identify issues early and take action quickly. In this article, we will look at Executive dashboard and reports – what is executive dashboard reporting, benefits of executive dashboard reports, how to create executive dashboard, executive dashboard best practices, examples & templates
How to Create Executive Dashboard & Reports – Examples & Templates
What is Executive Dashboard Reporting
Executive Dashboard is a visual presentation of all the key performance metrics and KPIs about your organization, department or business are that your executives are responsible for.
It is meant for C-level executive, VPs, and senior managers to help them measure strategic performance against goals, get a bird's eye view of overall performance, get insights and make data-driven decisions.
Executive dashboards are summarized in nature and contain high-level information for executives. They don't contain granular information like operational dashboards.
Nevertheless, executive dashboards automatically gather, analyze and report information from various systems and processes that an executive is responsible for.
Bonus Read : What to Include in Executive Dashboard
Benefits of Executive Dashboard Reports
Here are the key benefits of executive dashboard reports. They:
Provide single point source of information
Give at-a-glance status of performance
Help measure strategic performance with respect to goals
Highlight issues and areas of improvement
Help discover new growth areas
Enable data-driven decision making
Bonus Read : How to Create SQL Dashboards
How to Create Executive Dashboard & Reports
Here are the steps to create executive dashboard & reports.
1. Understand your target audience
Find out who will use your executive dashboard, how and why. Each executive is responsible for a department or business unit and will be interested in monitoring its performance. For example, a CIO will be looking for performance of IT systems, while a Sales VP will be looking for sales numbers of products & services. Some executives might use your dashboards for strategic inputs while some may use it for operational monitoring. When you create executive dashboard, make sure you talk to your target audience and understand their requirements.
2. Identify Executive KPIs and Metrics
Executives are interested in high-level summaries and not granular details. Understand their business goals and objectives, and what KPI metrics they use to measure performance. They might already be using some form of reporting (via excel, in-house systems, data dumps, email, web portals, etc) to analyze information. Make a list of all such executive KPI metrics, and ask them if there are any additional KPI metrics they would like to track henceforth.
3. Design Dashboard Mockup
Once you have determined what KPI metrics to show on your Executive dashboard reports, use a dashboard software to design your dashboard. Organize your executive KPI metrics into 3 layers – most important and urgent KPIs in top layer, trends & distributions in middle layer, and granular details at the bottom. Also, place related KPI metrics near each other so that your dashboard is intuitive and easy to understand. Also, when you create executive dashboard, make sure you use the right visualization for each KPI metric so that users can quickly get insights just by looking at graphs & charts.
Bonus Read : Agile Business Intelligence & Data Analytics – Complete Guide
Executive Dashboard Best Practices
Here are the top executive dashboard best practices to help you build executive dashboards :
Display summary information instead of granular details
Show only up to 10-15 KPI metrics on your dashboard. Avoid clutter
Organize your KPI metrics logically. Group related metrics together
Provide filters for users to slice & dice data on the fly
Include drill-downs to allow users to dig deeper and investigate trends
Clearly mention assumptions & caveats as footnotes
Provide ability to export dashboard as PDF so users can take a snapshot of dashboard when needed
Send automated email dashboards to executives so they can be up-to-date.
Make your dashboards responsive so users can access them anywhere, anytime.
Bonus Read : Best HR Dashboards Examples & Templates
Executive Dashboard Examples & Templates
Here's an example of executive dashboard created using Ubiq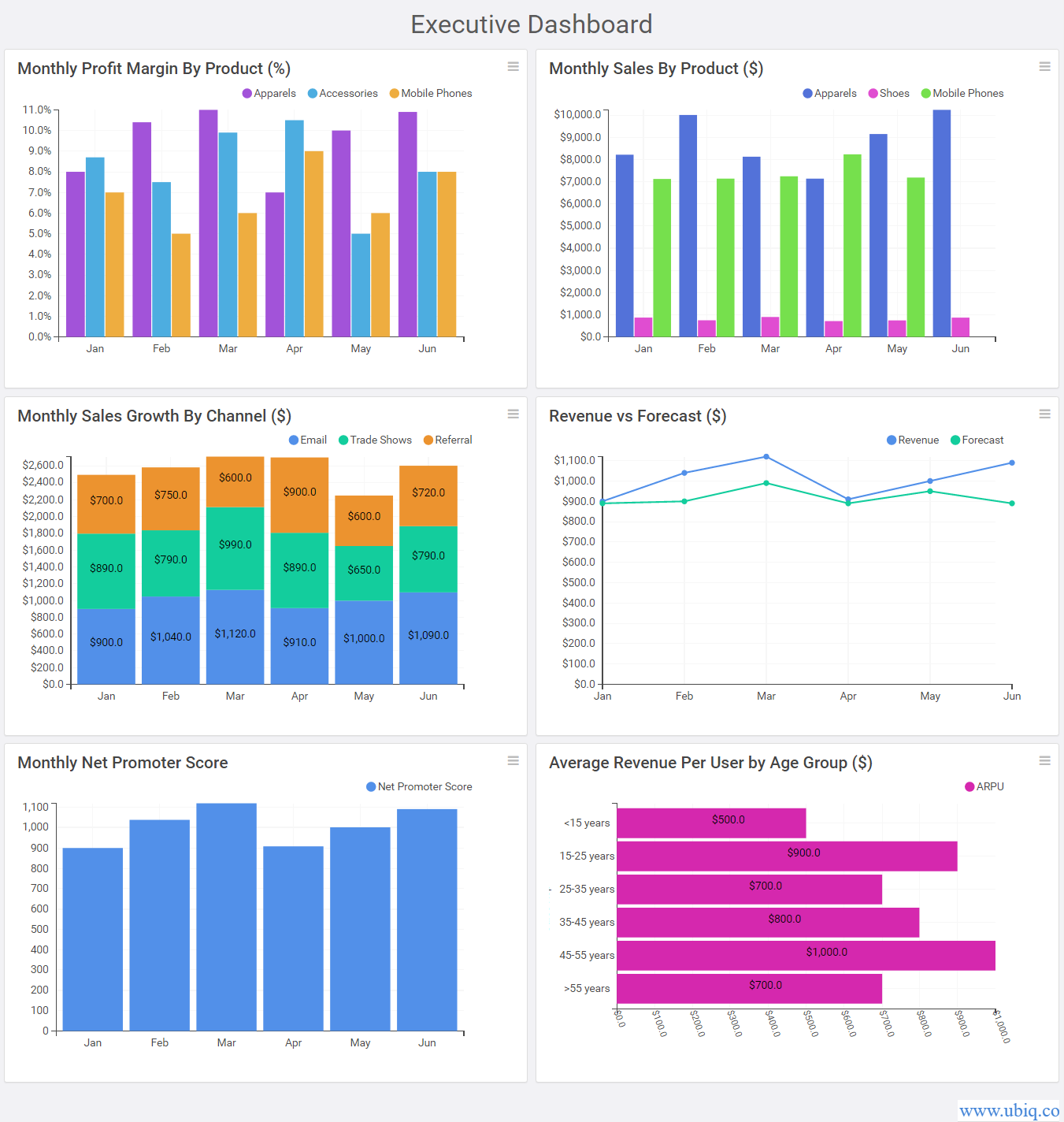 Hopefully, this article will help you create executive dashboard for your business.
Ubiq makes it easy to visualize data in minutes, and monitor in real-time dashboards. Try it Today!