Building better business dashboards is easy if you follow a few dashboard design best practices. Well-designed dashboards can give a complete picture about your business, within minutes. Else, they can confuse or even misguide your users. Here are the top 5 tips to help you build better business dashboards, that give insights intuitively and help you make better decisions.
5 Tips to Build Better Business Dashboards
Here are the top 5 tips to build better business dashboards.
1. Know your target audience
The most important tip has, surprisingly, nothing to do with your dashboards. It's about your target audience who will view your dashboards and use them regularly. It's important to gather business reporting requirements, understand as to why they need your dashboard and how they intend to use the information in it. While designing your dashboards, ask yourself these questions about your target audience:
Who are they?
What do they do?
How will they use this information?
What level of detail do they need?
Once you get a clear idea of who's going to use your dashboards & how, you can easily pick the right type of business dashboard, design them to contain the right KPIs and present them to the right level of detail. For example, C-level executive are mostly interested in summaries and high-level metrics, while managers want more details, with the ability to drill-down/filter data.
2. Layout your dashboard properly
Once you have researched about your target audience and figured out the relevant metrics, it's time to lay out the metrics on your dashboards. When it comes to laying out dashboard widgets, simply follow the pyramid principle:
Most important KPIs as the top
Trends, comparisons & distributions in the middle
Detailed data cuts like tables at the bottom
This will help your users quickly understand your dashboard. Here's a sample sales dashboard created using Ubiq.
Check out How to Make Your Dashboard Look Professional
3. Choose the Right Visualization
If you don't use the right visualization to present your information, you will only make it difficult for your users to understand your dashboard. Let's look at the following example. Which visualization is the right one to present monthly sales trend?

The sales trend is quickly evident in the 2nd visualization on the right. In the pie chart, you end up wasting time between the legend and pie slices. Most data visualization tools offer a wide choice of graphs & charts. So choose wisely.
4. Less is More
You must have heard this tip almost everywhere these days. It is also applicable to build better business dashboards. Use less widgets to clearly articulate your points. Don't overwhelm your audience with too many numbers and visualizations. Dashboards are chock full of colors and charts, and can easily confuse anyone. Similarly, use a consistent dashboard color palette for all charts & graphs.
5. Group Related Metrics
You can build better business dashboards that intuitively present your insights and even persuade your audience to make a decision by smartly grouping related widgets, though visual cues such as using similar colors across related widgets and placing related metrics near each other on your dashboard. This is one of the most effective dashboard design best practices. Here's an example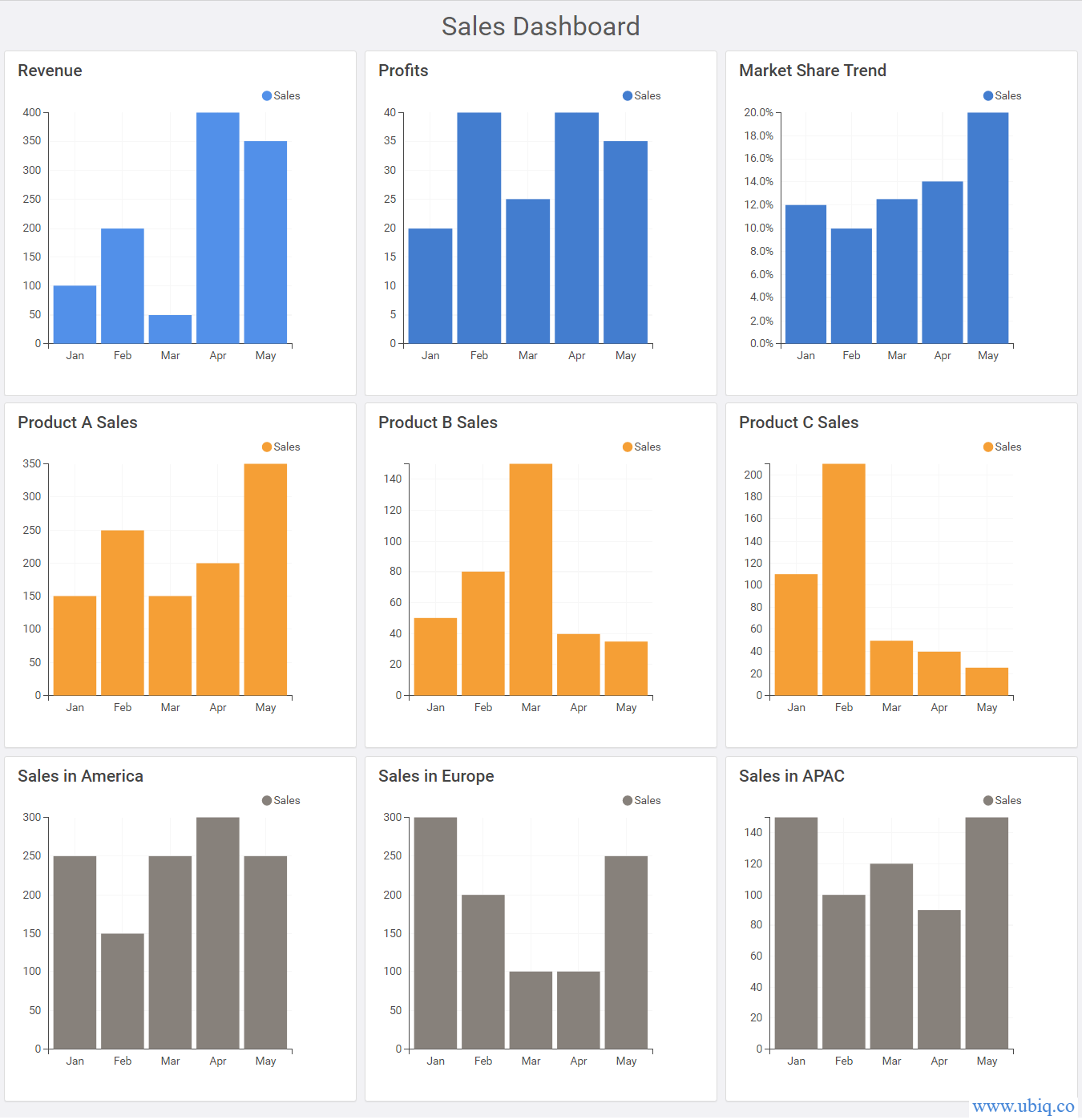 The placement of widgets above, and use of similar colors make it easy to analyze trends, make comparisons and draw insights. Most BI Solutions allow you to easily customize dashboard layout.
That's it! Hopefully the above tips can help you build better business dashboards. If you want to create business dashboards, reports & charts, you can try Ubiq. We offer a 14-day free trial.