Call Center Dashboard Reporting & Analytics make it easy for businesses to measure call center performance, and track customer service KPI metrics to achieve operational excellence. Here are the top 5 call center dashboard reporting & analytics tips you can apply to your business.
What is a Call Center Dashboard?
A Call Center Dashboard allows you to measure key performance metrics and KPIs about your call center and customer service processes from one place. It is meant for customer support managers and call center executives to help track their performance against goals, and achieve operational excellence.
Bonus Read : Best Dashboard Ideas & Examples For your Business
Benefits of Call Center Dashboard
Here are the benefits of call center dashboard
Call center metrics dashboard help you regularly monitor and improve key performance metrics of your call center.
It helps improve customer satisfaction
Call center dashboards give insights into customer agent performance, and identify those agents in need of training and assistance. This improves employee performance and keeps them happy.
It also helps call center managers spot service inefficiencies and improve processes
Analyzing call center data helps you explore every aspect of call center performance, share insights with your team and collaboratively improve performance.
Bonus Read : Top 5 Dashboard Features for Business Dashboards
Top 5 Call Center Dashboard Reporting & Analytics Tips For You
Here are 5 key call center dashboard reporting & analytics tips you can use to improve call center performance.
1. Set Your Customer Service Goals
The best call center dashboards help businesses achieve specific customer service goals. Once you have set clear contact center goals, you can determine key metrics to measure performance and build call center dashboards to track them.
Sit down with your team and brainstorm 2-3 areas of your call center performance that you want to improve.
Here are some questions to consider:
Can we improve overall responsiveness?
How can we improve call resolution?
Which issue areas take most time for resolution? How do we track them?
How to improve customer service communication?
Bonus Read : How to Choose the Best Business Intelligence Software
2. Pick the Right KPI metrics
There are tons of customer service KPI metrics that you can monitor for contact center performance. However, it is important to measure the right call center KPIs that align with your above goals.
For example, if you want to improve call responsiveness, it is important to measure overall response time as well as response time by issue topics. You also need to monitor daily & hourly average response times to understand when your call center gets overloaded with issues.
If you choose the right customer support metrics and KPIs, they will help improve customer service department's performance.
Here are some of the key metrics you should measure:
Number of issues/calls in past 24 hours
Overall average response time
First Call Resolution
Daily Average Response Time
Daily Abandonment rate
Number of Issues by Topic
Top performing agents
Average Hold Time
Daily Average Transfer Rate
Bonus Read : Top Call Center KPIs & Metrics for Customer Support
3. Help Your Agents Do Better
Every call center is run by an army of dedicated call support agents who have to deal with a wide range of problems and issues, faced by your customers.
If they are not well-trained and motivated, their performance will suffer and your contact center will get affected.
So it is important to analyze the performance of your call agents, identify areas where they need additional coaching and support, and monitor their performance regularly.
Also look for areas of automation through videos, self-help, tutorials, etc.
Monitor top performing agents in your call center dashboard and incentivize them to share best practices with others.
4. Monitor all touchpoints
Call centers have multiple touchpoints such as phone, social media, website, email, etc.
Use your call center dashboard to track number of daily issues and performance for each medium, and allocate resources accordingly.
Similarly, you can analyze your call center dashboard to identify the most troublesome areas(such as sign up, payment, login, etc) of your product/service.
Bonus Read : How to Create Operational Dashboard For Your Business
A call center dashboard is a treasure-house of information to help your business improve customer service and satisfaction. It is a great tool for call center managers to run contact center operations, and valuable resource for call agents to improve individual performance.
Here's a call center dashboard example built using Ubiq.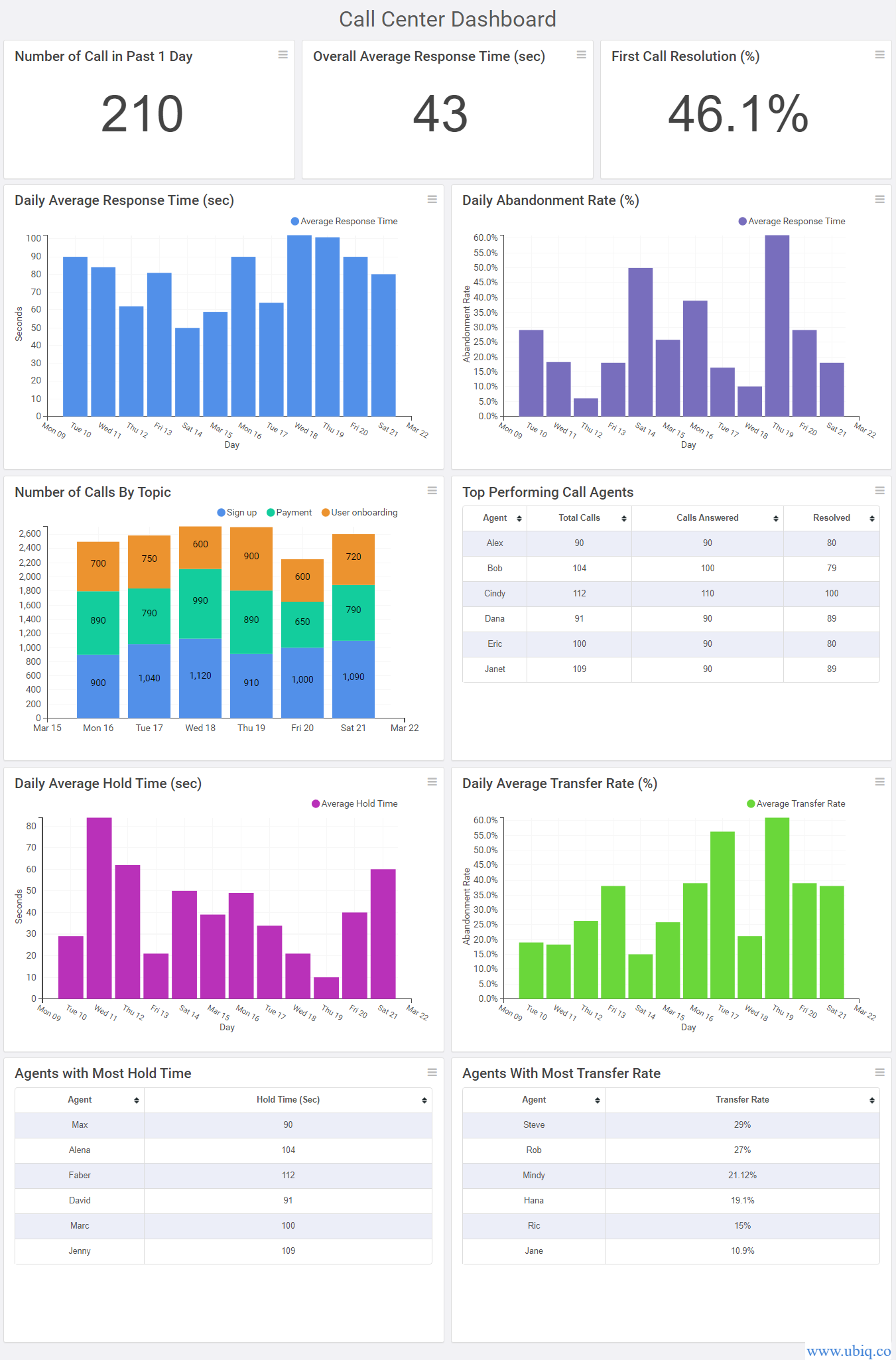 Ubiq makes it easy to visualize data in minutes, and monitor in real-time dashboards. Try it Today!