BI tools and platforms make it easy to get insights from data and make better decisions. They allow you to easily gather, consolidate and analyze data from various sources. Here's how to choose the best business intelligence software for your business.
How to Choose the Best Business Intelligence Software
Here are the key criteria to choose the best business intelligence software for your business.
1. Supported Data Sources
Every organization works with certain specific data sources. Some use flat files, some use databases while some use APIs. If your business intelligence software doesn't support your organization's data sources, then its usability will be limited.
In some cases, a BI platform might require you to carry out tedious data transformations just to input data into their system. This increases project time and costs. Find out if prospective BI tools support your organization's data sources, as is, without any modification.
There are many business intelligence tools in the market that can directly connect to your data and deliver insights.
Bonus Read :  Financial Dashboards & Reports : Benefits, KPIs & Metrics
2. Available Data Visualizations
Data Visualizations are one of the most powerful as well as essential ways to present your insights to a broader team in your organization.
Sometimes, you may need to display information in a specific chart type only, due to the nature of data or project requirements. To choose the best business intelligence software find out which data visualizations, charts and graphs are supported by your business intelligence software.
Here's a sample dashboard built using Ubiq, that showcases different data visualizations.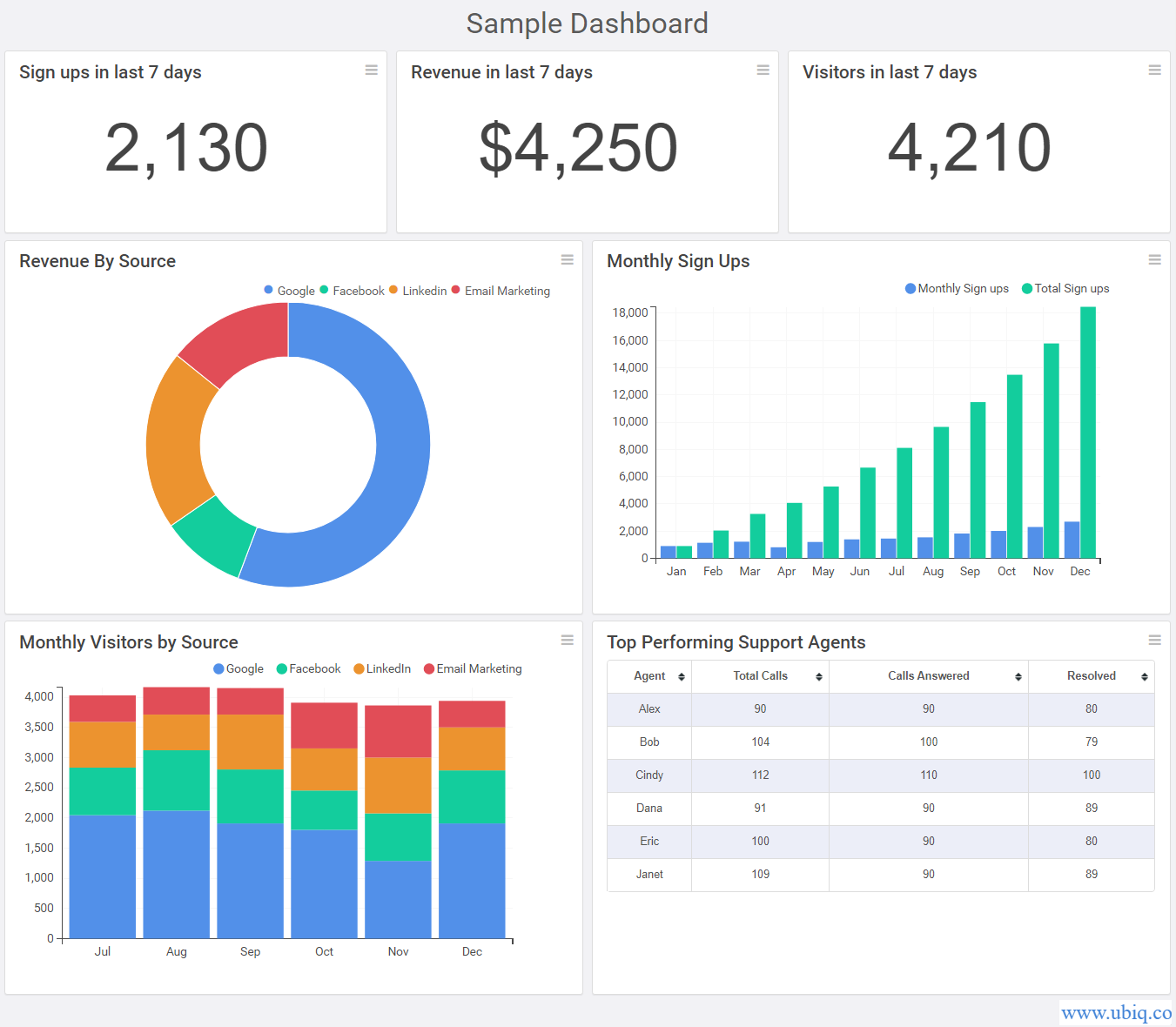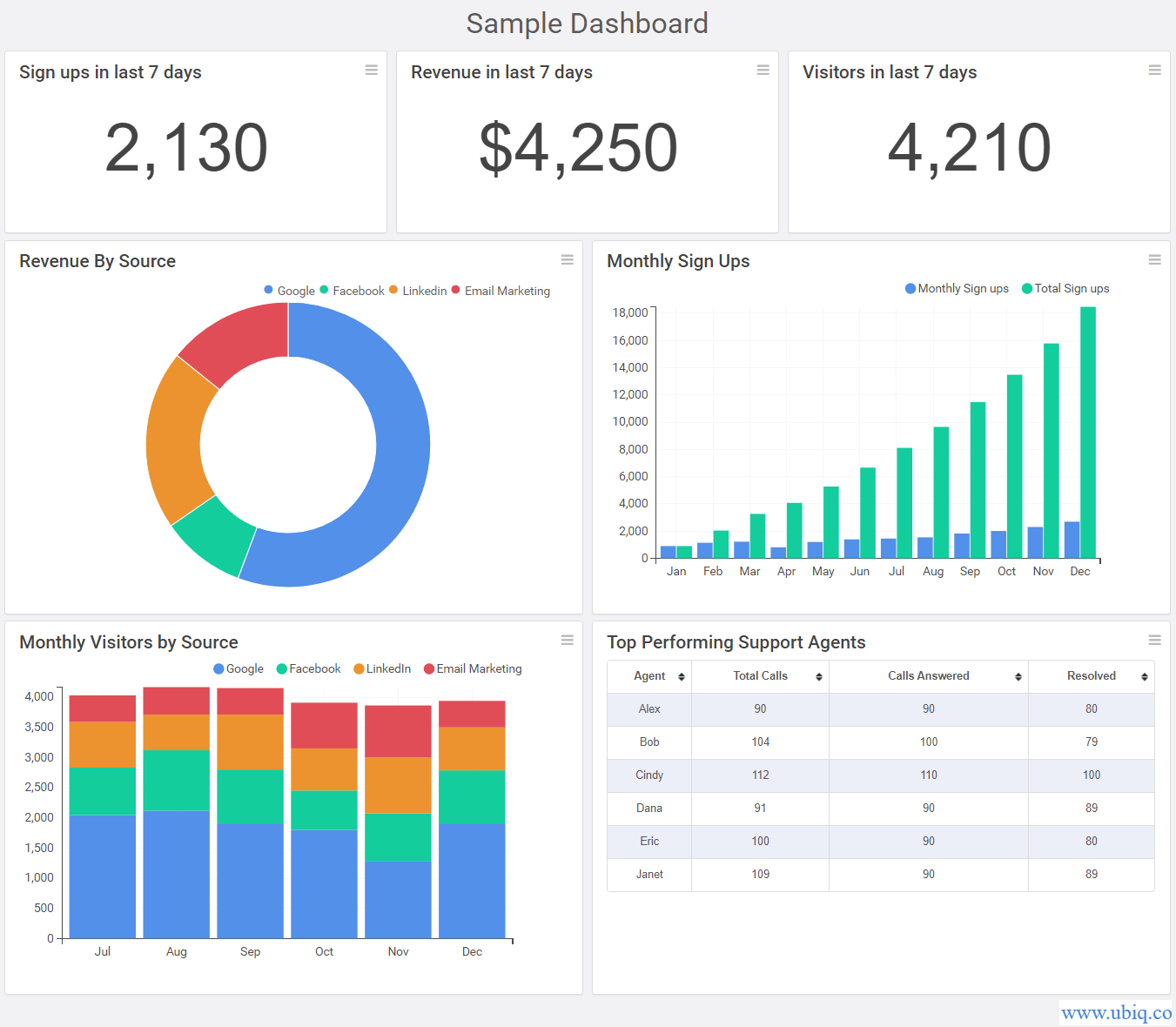 Bonus Read : How to Create Operational Dashboard For Your Business
3. Data Analysis Tools
Today's business intelligence requirements are complex and require you to do comprehensive data analysis and reporting.
So it is important to evaluate the available data analysis capabilities to choose the best business intelligence software. Top BI tools are able to slice & dice data on the fly, using dynamic filters. They also include the ability to drill-down into each graph to get more details.
Your business intelligence software must also support custom formula & variables to be used in your reports and dashboards. This will help you process data as per your business rules.
Lastly, it must also support SQL querying since graphical interface may not be able to handle complex reporting requirements.
Bonus Read : CTO Dashboards & Reports : Benefits, KPIs & Metrics
4. User Management
BI tools are team software used by multiple users in an organization. Does your business intelligence software support user roles and access management?
Your BI software should make it easy to add/remove users. It should also allow you to easily control user access to each dashboard/report, depending on their organization roles, with just a few clicks.
Find out how easy it is to add/remove users as well as modify user roles & access.
Bonus Read : Top 5 CRM KPI Metrics for Business
5. Report Delivery
It is not enough to build dashboards and inform your team about it. It might not be possible for all your end users to regularly log into your Business Intelligence software to look at their dashboards & reports.
If your users don't use your dashboards & reports, then all your effort will go in vain. So it is important to proactively deliver BI reports and dashboards to them.
You will need to leverage multiple delivery mechanisms to deliver your dashboards and reports to your target audience. Does your BI tool support automated email reports? Can you export dashboards as PDF? Can you export their data as CSV/TXT files?
Similarly, is your Business Intelligence software mobile-ready? Some of your users may want to access it while on the move.
Carefully, evaluate each prospective BI tool to determine which one meets your requirements & fits your budget. Hopefully, the above criteria will help you choose the best business intelligence software for your business.
Ubiq makes it easy to visualize data in minutes, and monitor in real-time dashboards. Try it Today!