Using the best dashboard color palettes is very important in dashboard design. If you don't use a good color combination, your dashboard viewers won't be impressed. Here are the best color palettes for business dashboard that you can use to build better dashboards.
5 Best Color Palettes for Business Dashboard
Here are the top 5 color palettes to build professional-looking business dashboard.
1. Basic Colors
This is the most basic color palette, widely used by popular business intelligence and data visualization reporting tools all over the world. It consists of beautiful and professional-looking colors that will lead to good data visualization.
Here are the colors for your reference. They have been created by keeping data visualization best practices in mind. The 1st and 3rd palettes are less saturated in case your audience likes more sober shades.
You can use these colors, to differentiate between various elements of a chart. For example, you can use them as pie slices to distinguish between different elements of a pie chart. You can also use it to distinguish each line of a line chart.
However, they might not be suitable for a column/bar graph that show trends and require usage of same color throughout. Most data visualization software allow you to completely customize dashboard color palette.
2. Single Color Palettes
In case you want to imply relationship between a chart's elements, you can use a single color graph. In the following example, in which chart is it easier to spot the sales trend?

The sales trend is evident in the column chart which uses just 1 color while the user might end up wasting time between the chart legend and pie slices in the pie chart. So pick the right chart type when you use a reporting tool.
You can also use different hues of one color to show trends, distribution as well as composition relationships. Here's an example. Notice how different shades of just one color are being used to show distribution gradient.
Here are some more single color palettes for business dashboard that you can use. 
You can find many more such combinations in an online tool called Color Brewer
3. Contrasting Color Palette
Dashboards are highly visual elements and can be distracting if you don't use colors properly, or use too many colors. So, when you build a dashboard using a reporting software, you can use highly contrasting color palette for business dashboards, to highlight only your key points. Use the brightest and most saturated colors to focus your audience's attention  to important points, and cut out the noise. Use less saturated colors for less important graph elements, as well as footnotes.
Here's an example,
4. Category-based Color Palettes
You can also use single color palettes for business dashboard to group similar elements into categories, and imply relationships, as shown below. Here's a sample sales dashboard created using Ubiq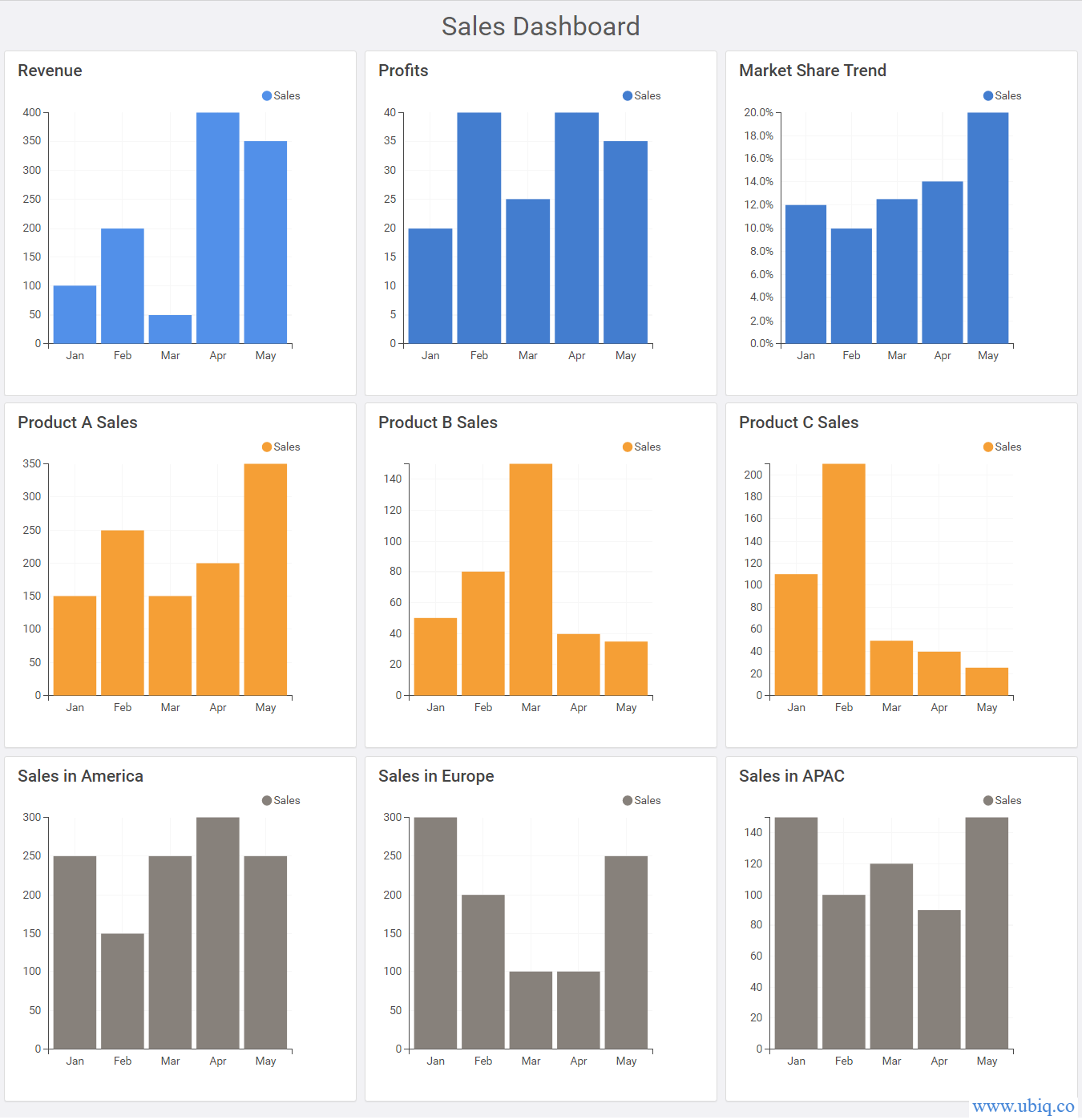 The above arrangement of colors and graphs, combined with proper positioning makes it easy for viewers to make comparisons and draw insights.
5. For Color Blind Audience
While designing color palettes for business dashboard, it is important to find out if your audience includes color-blind people, as they cannot perceive certain colors, like others.
So it is important to determine & exclude those colors from your palette, to make it easy for color-blind people to analyze your graphs & reports. Always gather business reporting requirements for your target audience first.
Here are some color-blind safe color combinations for business dashboards.
Also check out our 5 Tips to Build Better Business Dashboards
Hopefully, the above color palettes for business dashboard will help you create more insightful and intuitive dashboards for your target audience.
If you want to create business dashboards, reports & charts, you can try Ubiq. We offer a 14-day free trial!