Well-designed business dashboards are intuitive & insightful. They make it easy for users to analyze data and get information to make better decisions. Here are some of the best dashboard design ideas & examples you can use for your business dashboards.
Best Dashboard Design Ideas & Examples for Your Business
Here are the top dashboard design ideas & examples to help you build stunning dashboards.
1. Business Growth Dashboard Example
Business Growth dashboards give you a quick glance of the overall business growth and allows you to make strategic decisions. It is meant for Executives and managers who would like to regularly review critical KPIs and metrics about their business area.
Here's an example of business growth dashboard built using Ubiq.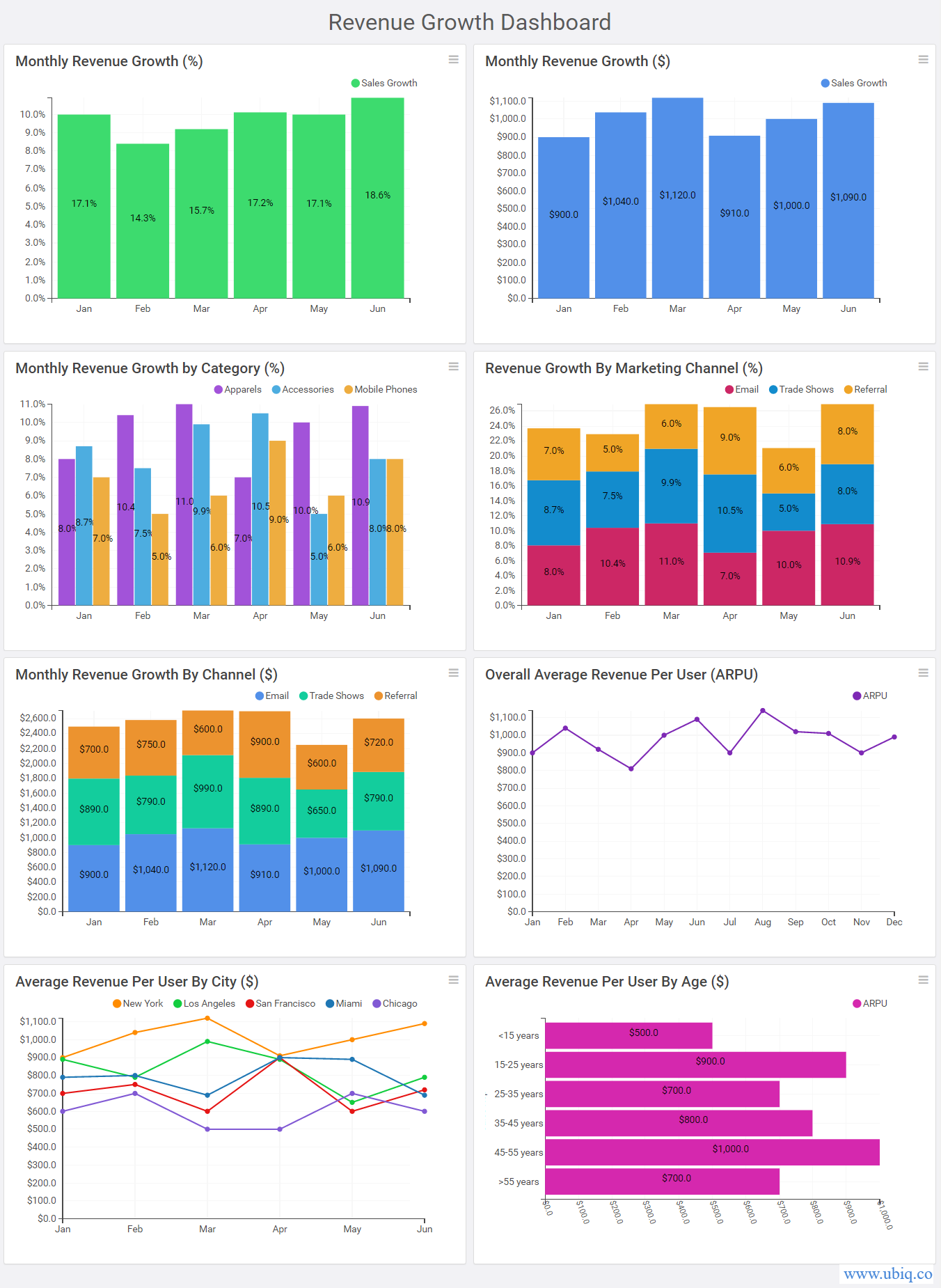 Bonus Read : Top 5 Business Growth KPI Metrics to Track Regularly
2. Marketing Dashboard Example
Marketing dashboards are a great way to monitor marketing campaign/channel performance, review them against marketing goals & objectives, and compare marketing spend with allocated budget.
They are very useful for marketing managers, executives and business owners to monitor marketing KPIs and metrics, on a regular basis, and make better decisions.
Here's an example of a marketing dashboard built using Ubiq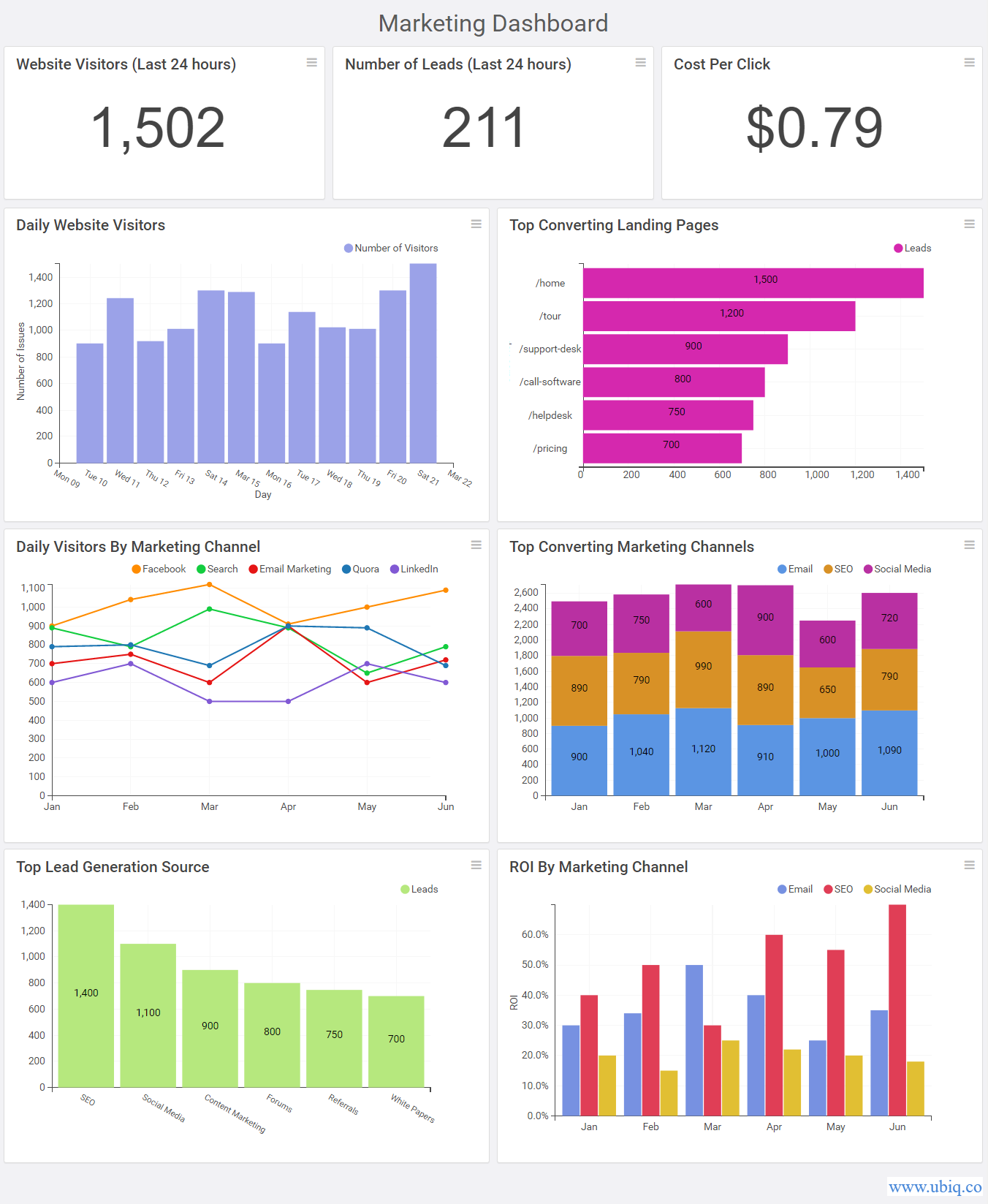 3. Web Analytics Dashboard Example
Web Analytics dashboard is useful for CTOs, product managers, website administrators, and tech team leads of online businesses to monitor server loads, website traffic trends, and identify issues quickly.
It contains many useful website performance KPI metrics such as requests per second, average page load time, number of errors that allow tech users to easily understand website performance and fix issues.
Here's an example of a web analytics dashboard created using Ubiq.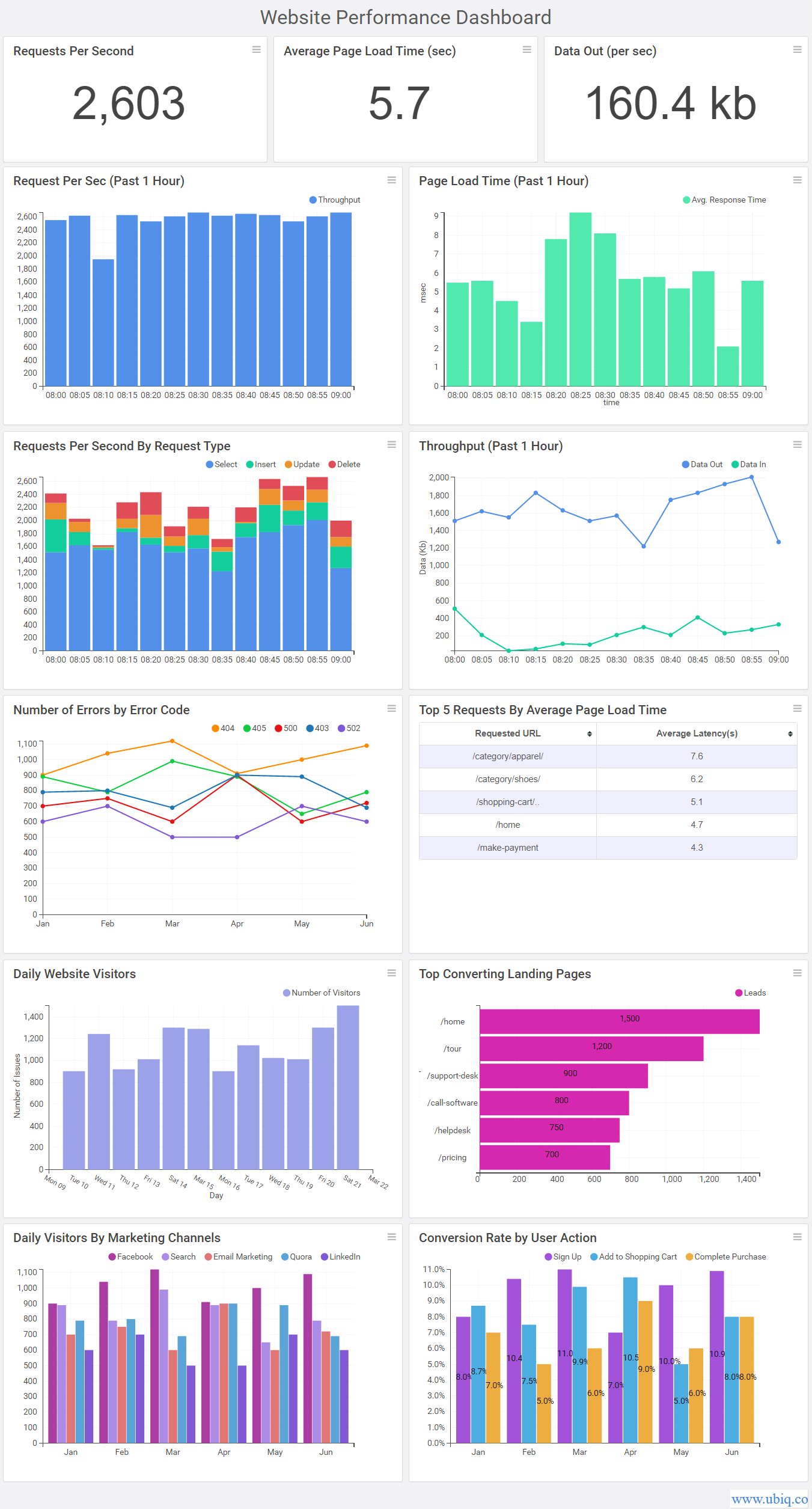 4. Customer Support Dashboard Example
Customer Support Dashboards are meant for customer support managers, operations managers, support executives to monitor the effectiveness of their customer support team. They are also useful for call center managers who want to monitor operational excellence.
It gives a good idea about key customer service KPI metrics such as the number of issues, average time to close, top performing call agents to help customer service teams improve performance.
Here's an example of a customer service dashboard created using Ubiq.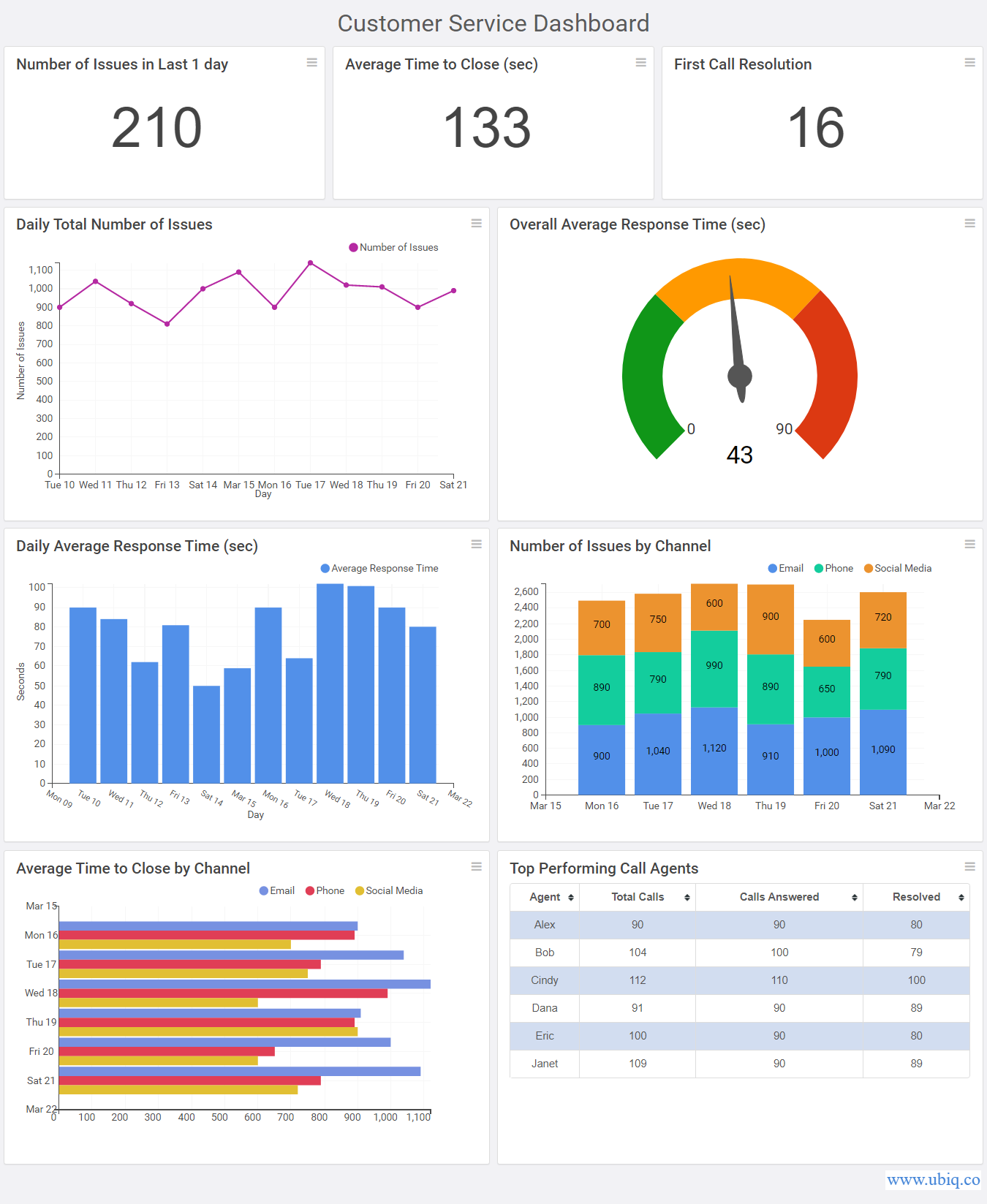 5. Project Management Dashboard Example
Project Management Dashboards are important for project managers to keep track of various tasks and deliverables about their projects.
Project management dashboards help you track many useful project management KPI metrics such as tasks completed, milestones achieved, ROI, project tasks by status, workload and employee performance.
Here's an example of project management dashboard created using Ubiq.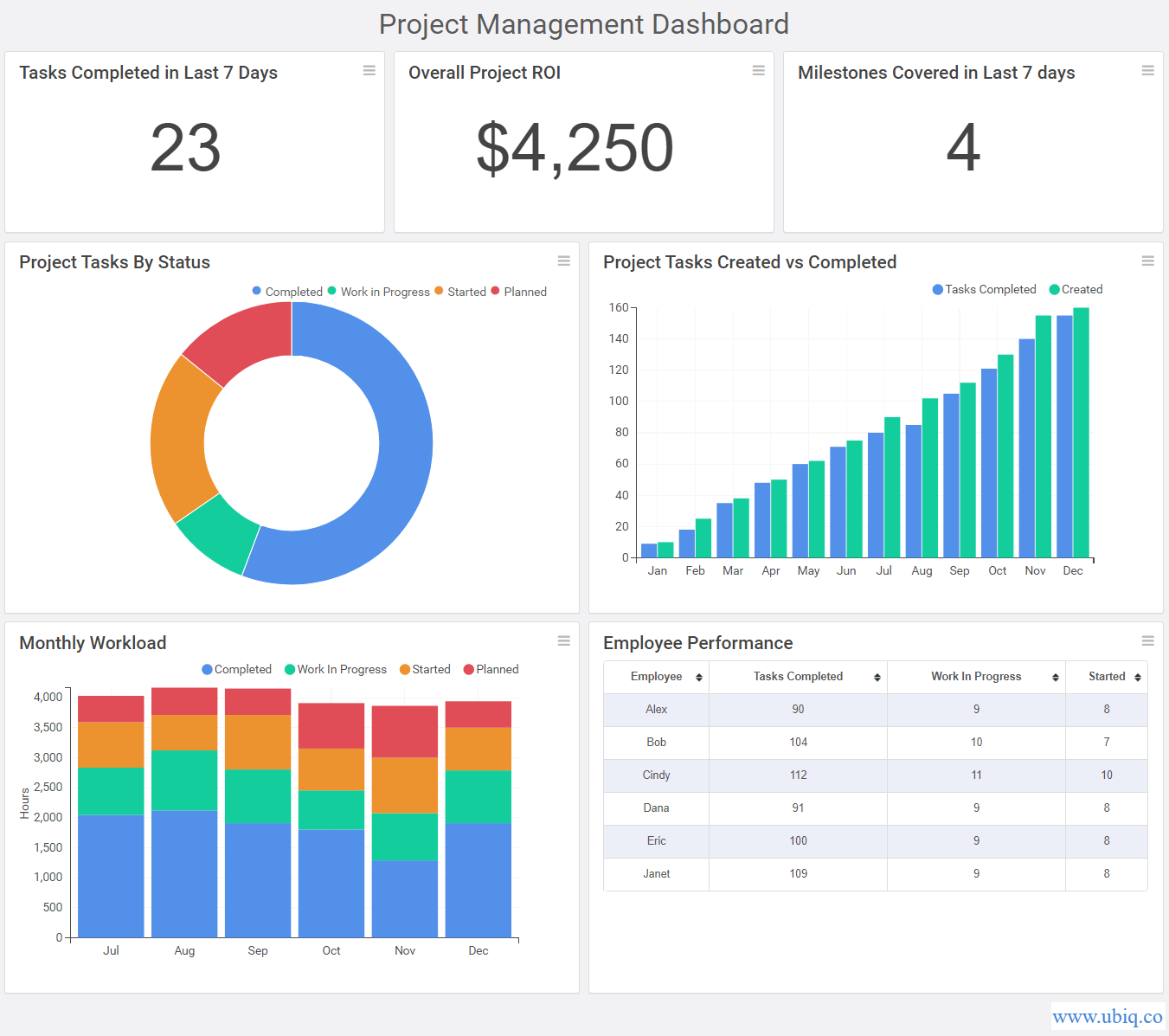 Hopefully, you can use the above dashboard design ideas & examples for your business.
Ubiq makes it easy to visualize data in minutes, and monitor in real-time dashboards. Try it Today!