Dashboard design best practices make it easy to create well-designed dashboards & reports, get insights and take decisions. There are a few business intelligence best practices for dashboard design that can help you design great dashboards easily. Here are 5 key dashboard design tips & principles to keep in mind, while designing business dashboards for your users.
5 Key Dashboard Design Best Practices & Principles
Here are the key best practices & principles to apply while building business dashboards.
1. Know your target audience
The most important dashboard design tip is to know your audience and gather business reporting requirements.
Ask yourself,
Who is your target audience?
What do they do?
What problems do they face?
What information do they need?
How will they use your dashboard?
Once you have a clear idea about your target audience, you will be in a better position to design intuitive dashboards. For example, top management executives look for high-level trends and strategy performance. On the other hand, middle-level managers need more granular information to manage day-to-day operations. Knowing your audience will enable you to decide the following aspects of your dashboard:
Which metrics to display?
What level of detail to use?
How frequently to update the dashboards?
Should your dashboard be one-pager or multi-page one?
2. Choose the right dashboard type
Did you know there are 3 types of dashboards – each meant for a different purpose? Depending on your target audience, it is important to choose the right type of dashboard to display information. Otherwise, you will end up confusing your users. Here are the 3 types of business dashboards:
Strategic dashboards – High-level dashboards for senior management to track performance of their strategies, and business areas against performance goals. It must contain high-level KPIs and help users determine if their strategy works or not. It should not contain low-level granular data
Analytical dashboards – Data-heavy dashboards used for ad-hoc analysis and reporting. Used by data analysts and business analysts, to answer follow questions posed by senior management, after they have reviewed strategic dashboards. It must have the ability to crunch large amount of data, with filtering and drill-down capabilities.
Operational dashboards – KPI dashboards used by middle-level managers to monitor day-to-day operations. Must show operational metrics related to day-to-day tasks, and help spot any deviations from the norm. Used for running operations smoothly.
3. Display relevant metrics
Once you have understood your target audience and decided the dashboard type to use, it is important to determine what metrics & KPIs to be displayed on your dashboards.
These metrics & KPIs will help your dashboards be intuitive, and enable users to make better decisions, faster. Find out the business goals & objectives of your target audience. Next, find out, what numbers they measure to track their performance. For each metric, determine
Whether to display a single number, trend, distribution, or a comparison
What action will your metric prompt the user to take
Can the user increase/decrease the metric with the help of a specific set of repeatable tasks. If so, then it is actionable.
What context to use to present the information?
Are there are any exceptions/caveats you need to highlight?
How much historical data to display?
What is the measurement period?
How frequently should you update this metric?
Once you have answered these questions, you will be able to build dashboard metrics & KPis for every business area/department/industry. For your reference, we have described in detail, the steps to build metrics for your dashboard.
4. Choose the right visualizations & colors
One of the key design principles that is often ignored, is to use the right visualization and professional colors palettes for dashboards. If you use the wrong visualization to display your metric, it will only confuse the user. Here's an example. In the following diagram, which visualization is easy to understand?

The sales trend is obvious in the right graph, while you end up wasting time between the legend and pie slices, in the left graph. Many data visualization tools offer a wide choice of charts & graphs. Pick them carefully.
Also, a dashboard is highly visual and can be distracting, if not designed properly. So use colors sparingly. Be consistent when it comes to using colors. Use similar colors for similar metrics. See diagram below, to get an idea of how you can group similar elements together by using same colors for them. It helps users spot relations and get insights.
Logical widget placement is an important trick to design intuitive dashboards. Here's a sample sales dashboard created using our data visualization software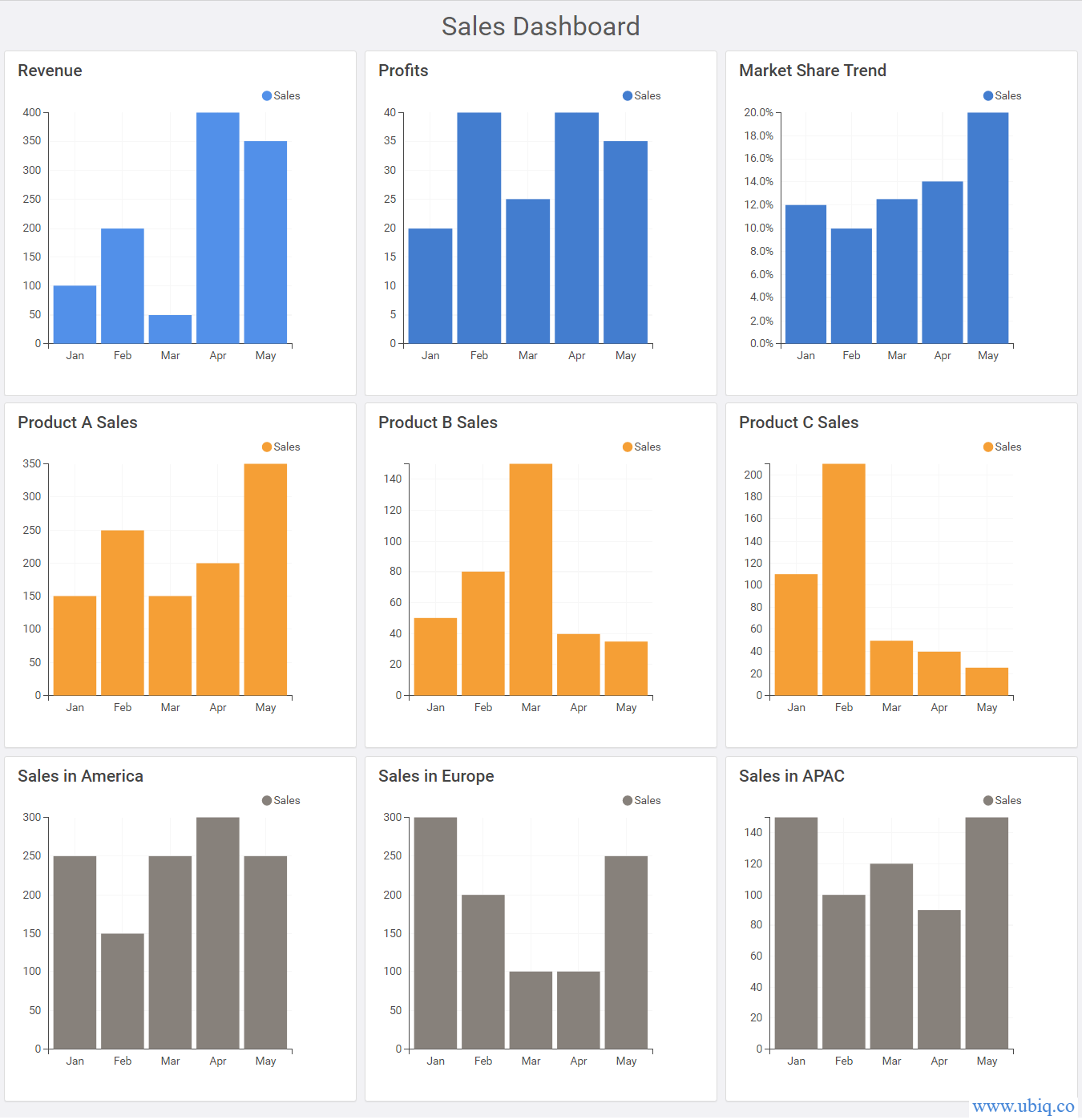 5. Use an intuitive Dashboard Layout
One of the most effective data visualization techniques is to layout metrics & KPIs in an easy-to-understand manner so that users don't end up wasting time. Generally, well-designed dashboards have 3 layers of information. At the top, display the most important metrics. The metrics in the next level, provide more detailed comparisons, distributions & trends about the top-level metrics. The bottom layer consists of granular data tables for further investigation and answering follow-up questions.
Here's another sample dashboard built using Ubiq dashboard software.
You can also group related metrics by using similar colors for them, and placing them near each other on your dashboard.
Hopefully, the above dashboard design principles will enable you to design reports & dashboards that help users make better decisions. If you want to create business dashboards, reports & charts, you can try Ubiq. We offer a 14-day free trial!