Customer Support dashboard enables businesses to keep track of all customer service issues, as well as call center performance from one place, and act quickly. It is also a great tool to achieve operational excellence and boost customer satisfaction. In this article, we will look at how to build customer service dashboard for your business.
How to Build Customer Support Dashboard
Here are the steps to build customer service dashboard for your business
1. Understand your Target Audience
Even before you build customer success dashboard, it is important to understand who will use your dashboard and how it will benefit them. In an organization, different people have different requirements.
For example, a customer service executive might want to track his performance and customer issues in real-time. A call center manager may be interested in monitoring overall performance of his team on a day-to-day basis. On the other hand, senior management will be interested in tracking high-level strategic metrics on a monthly or quarterly basis.
You will need to vary the customer support metrics on your dashboard, depending on its target audience. Otherwise, people will find it to be irrelevant.
Also Read : Top 4 Data Visualization Best Practices
2. What to display
Next, you need to consider the key metrics and KPIs that you want to show on your dashboard. Here are some of the key customer support KPI metrics relevant to most business.
Average Response Time – Average response time is the average amount of time a customer has to wait after placing a call, and getting a response from your support agent.
Number of issues – This is the total number of customer support issues your business receives. You can break this up by their status – open/closed.
First Call Resolution – First Call Resolution (FCR) is the number of times a customer issue has been resolved during their first call itself.
Average Time To Close – Average time to close is the average amount of time it takes to completely resolve a customer problem, after receiving their first call.
Customer Satisfaction – Customer Satisfaction is measured using Net Promoter Score (NPS), which determines how likely your customers will recommend your products/services to others.
Top Performing Agents – This is basically a list of the top performing agents in your team.
Depending on your target audience, you will need to change the granularity of above metrics. For example, a call center executive will need to look at daily numbers, while a manager would be interested in weekly trends, and and senior management might need monthly stats.
Also Read : Top 5 Business Intelligence Tools
3. Build customer service dashboard
Finally, you need to build customer support dashboard to track and display metrics. There are 3 steps to build a customer support dashboard.
First, you need to connect your data source to your dashboard software. For example, Ubiq allows you to connect to your data source, with just a couple of clicks. In case you need to connect with two or more data sources, you first consolidate data from these sources in centralized storage and then integrate it with your dashboard software.
Next, create customer support metrics & KPIs that you want to track in your dashboards. For example, our drag & drop interface makes it easy to calculate KPI metrics and visualize them using charts, graphs & tables. Here's an example of how to create charts & graphs without any coding.
Ubiq also allows you to write SQL queries, in case you have advanced reporting requirements.
Finally, share your dashboard with others using URLs, or display them on a widescreen TV for everyone to see. Here's an example of a customer service dashboard built using Ubiq dashboard software.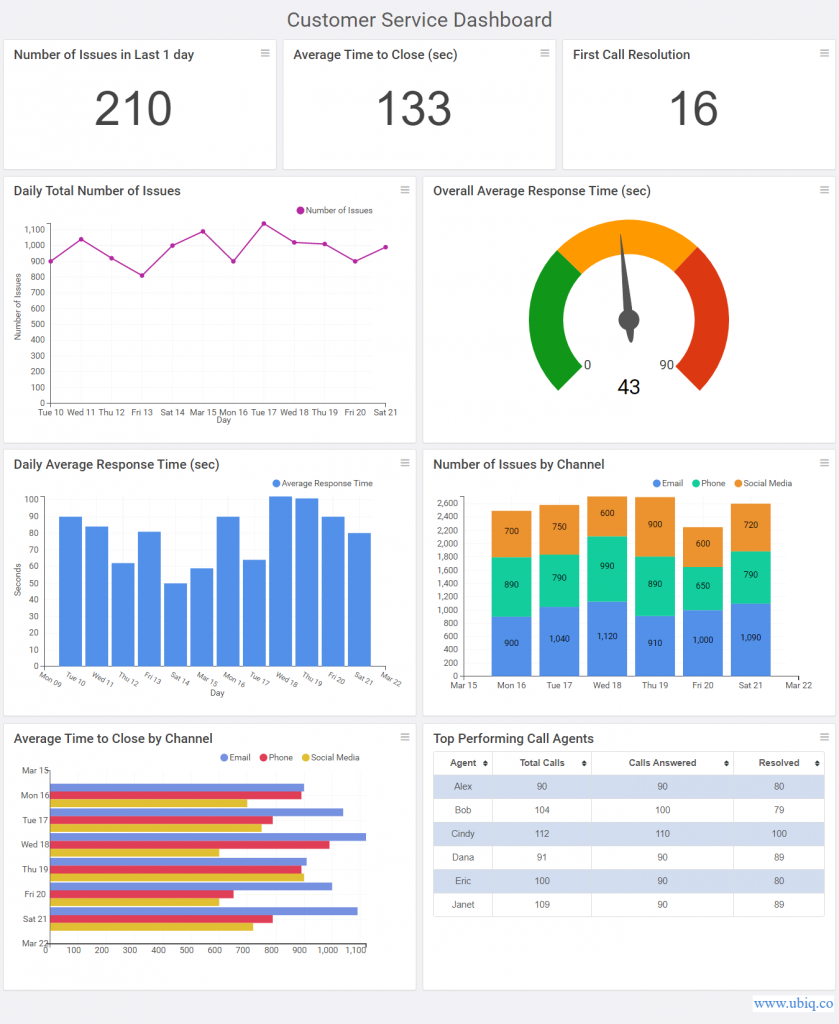 Hopefully, this article will help you build customer success dashboard for your business.
Ubiq makes it easy to visualize data and monitor them in real-time dashboards. Try Ubiq for free.