Call Center KPIs and metrics help you monitor call center performance and improve customer satisfaction. Here are the key call center KPIs and metrics for customer support service that will help you identify and fix problems quickly. You can track these inbound call center agent metrics on a call center metrics dashboard and share with your team.
Top Call Center KPIs & Metrics For Customer Support
Here are the key call center KPIs you must track regularly.
1. Average Response Time (ART)
Average Response Time is one of the most important call center KPIs. It measures the average amount of time people have to wait before they get a response from your call center.
The longer they have to wait, the lower the customer satisfaction. So it is important to keep average response time low to solve more issues and make customers happy.
You can track live average response time using a number chart to ensure that it doesn't go out of control.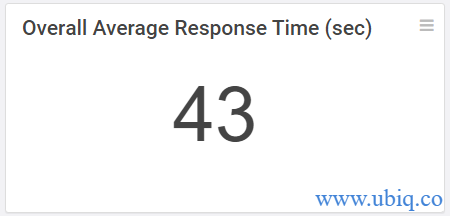 You can also track daily average response time for your call center, using a data visualization tool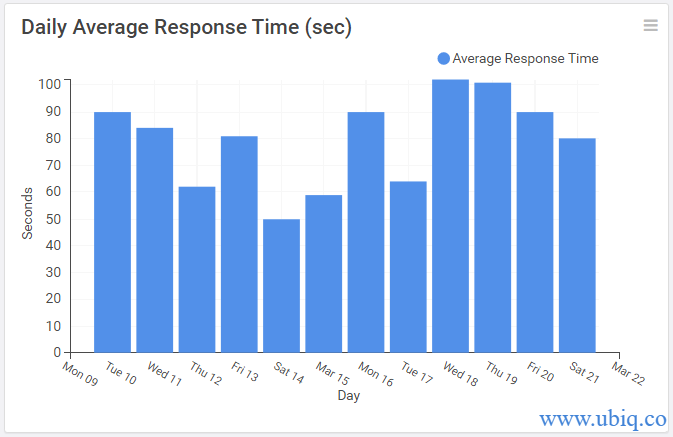 Bonus Read : Key Server Performance Metrics & KPIs to Track Regularly
2. Abandonment Rate
Did you know that 44% of callers abandon a product/service due to poor customer support? Abandonment Rate is one of the most critical call center KPIs for every business.
It measures the percent of callers who hang up before your agent could respond to them. If your abandonment rate is high, it may probably be due to long waiting times or poor connectivity with your call center.
You can track the daily call abandonment rate using a column chart so you know when there is a spike in it.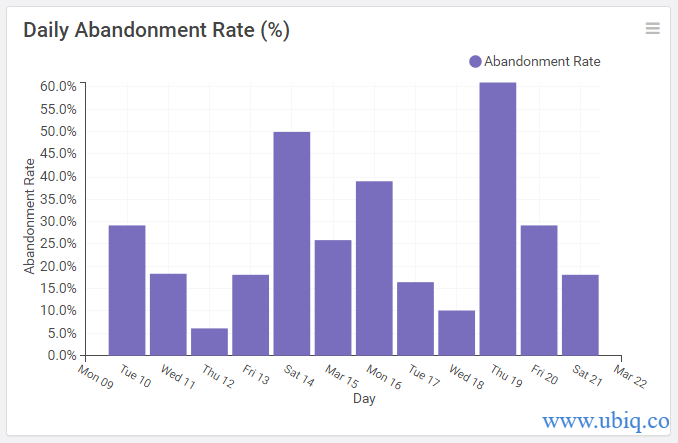 Bonus Read : What are the components of a successful dashboard
3. Number of Calls
Number of calls is one of the most crucial call center KPIs. It simply measures the total number of calls your call center gets every day. But it gives a good idea about your call center capability to handle issues.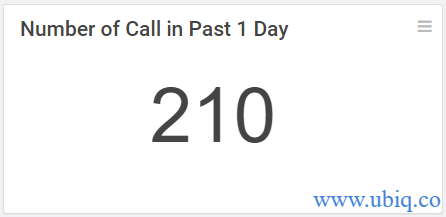 If you are getting too many calls, you may want to hire more agents and add automated responses for small issues.
You can monitor daily number of issues, categorized by topic, to get an idea of which topic gets most number of calls and on what days of the week.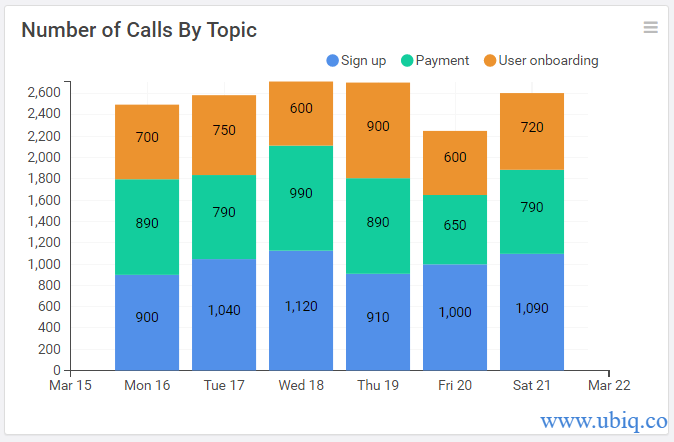 Bonus Read : Key Database Performance Metrics You Must Track
3. First Call Resolution (FCR)
First Call Resolution is one of the most important call center agent metrics. It is the number of calls where the customer issue has been resolved in the first call itself, without any transfers or follow ups.
Increase first call resolution to increase customer satisfaction. Identify most common issues, provide a comprehensive Q&A training to your call agents to tackle them and put a process in place.
You can simply monitor daily first call resolution rate as shown below.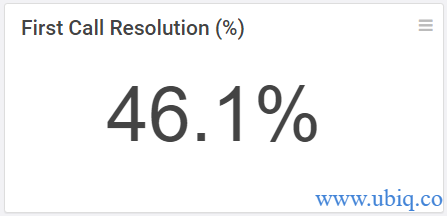 4. Transfer Rate
Transfer Rate is another important KPI for call center. It is the percent of times a call center agent transfers a call to another agent to resolve the issue. You can measure overall daily transfer rate to get a sense of how well your call center is performing.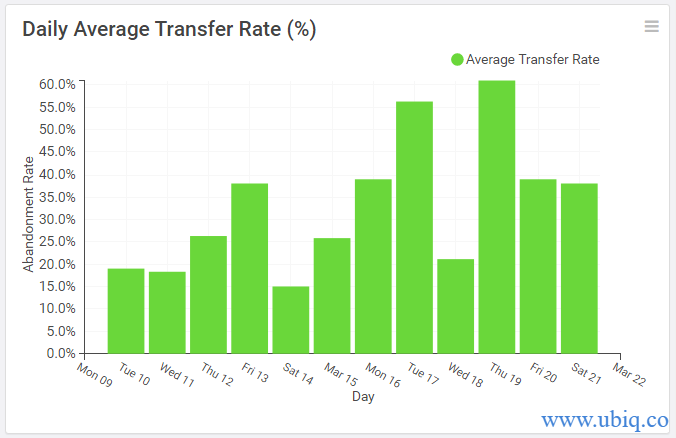 In addition, you can also track agents with most call rates. Perhaps, you can try to help them by giving additional training.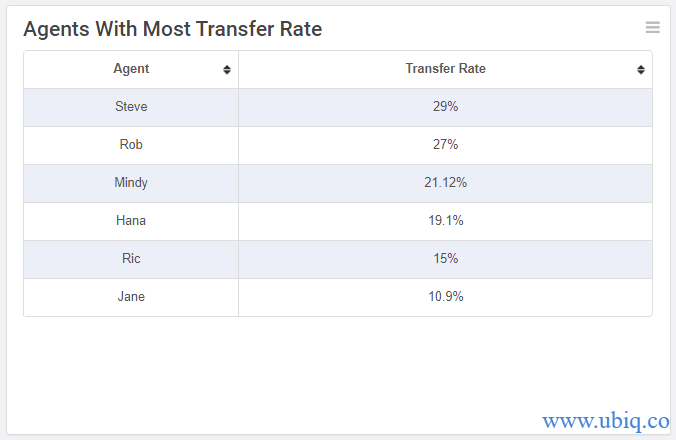 Bonus Read : How to Choose the Best Dashboard Software
5. Average Hold Time (AHT)
How long do your call center agents put customers on hold before they resolve customer issues? A high hold time will annoy your customers and many of them might drop off. It also indicates that your agents need more training and/or information to answer customer questions.
So monitor average daily hold time for your call center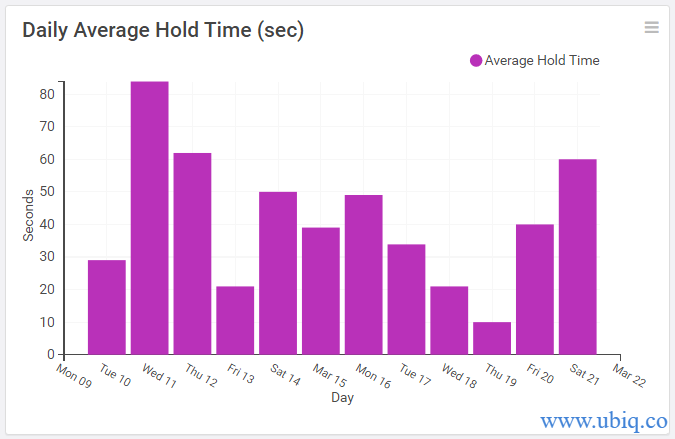 and identify the agents with longest hold times.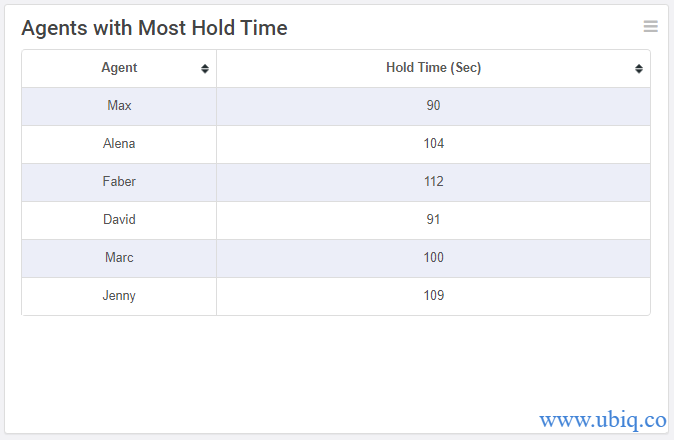 6. Top Performing Agents
In addition to helping agents improve, it is equally important to identify and reward top performing call center agents.
This will motivate them and and they will do even better. Also, you can encourage those agents to share tips & best practices, and train some of the other agents.
However, ensure that you evaluate each agent on multiple parameters such as total number of calls received, those resolved, FCR, etc.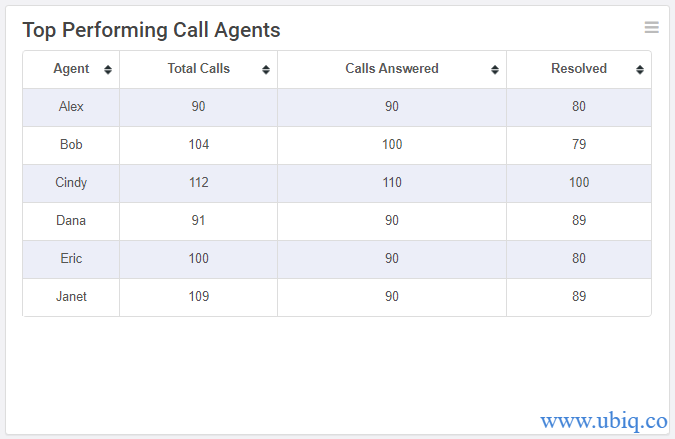 You can track these call center KPIs and metrics using a dashboard software and share insights with your team.
Here's a sample call center dashboard created using Ubiq for your reference.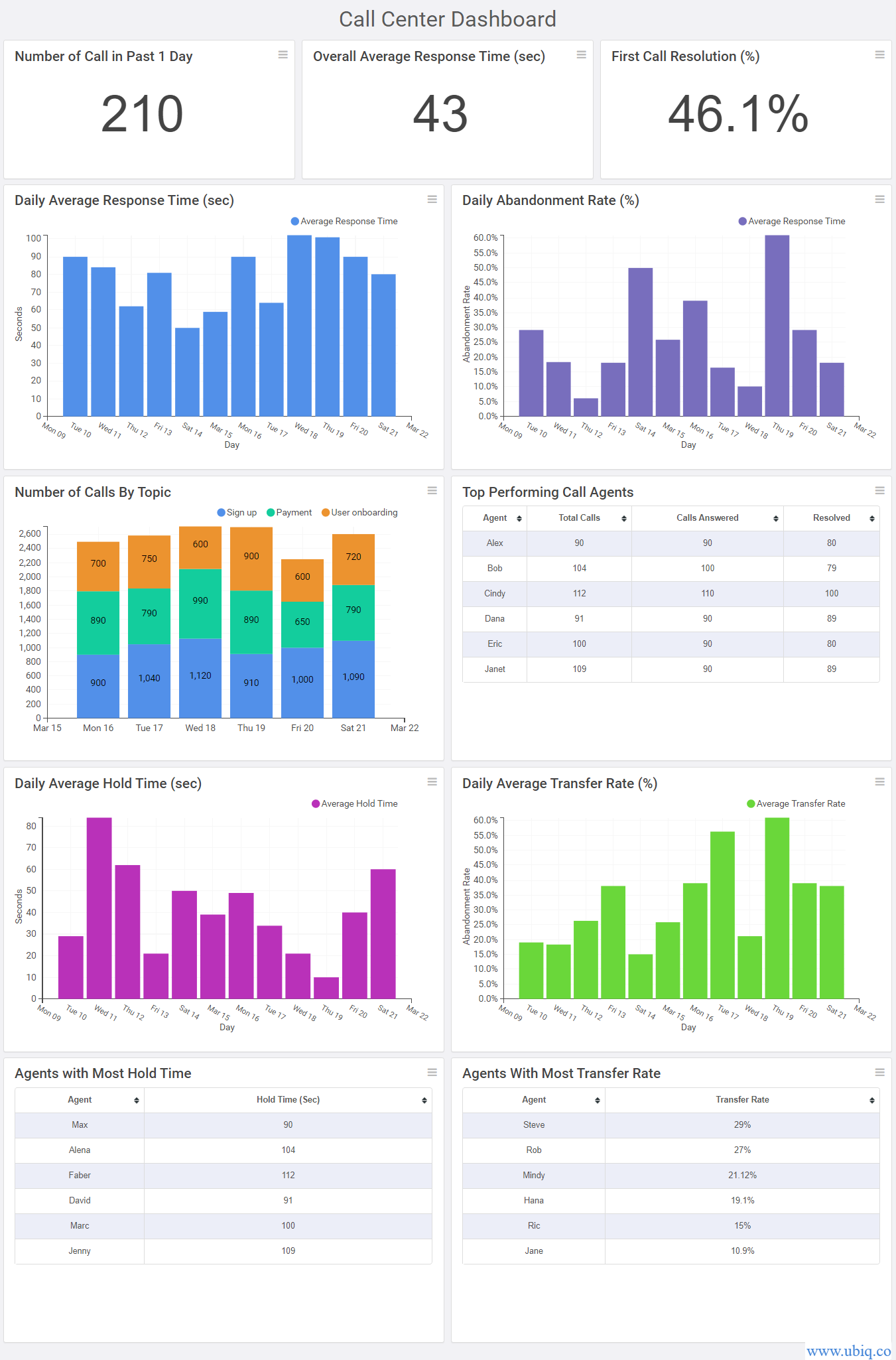 If you want to create business dashboards, reports & charts, you can try Ubiq. We offer a 14-day free trial!