It is important to select the best dashboard software for your business, that meets your reporting requirements and makes your life easier. Otherwise, your team will waste a lot of time & money trying to get business insights from data. Are you wondering how to buy dashboard software? Here are some things to look for to choose the best dashboard software for your business.
How to Select the Best Dashboard Software for your Business?
Here are some tips to select the best dashboard software for your business.
1. Data Sources
Every dashboard reporting tool supports various data sources. Find out if the prospective dashboard tool supports all the data sources used by your team/organization, for whom you are evaluating this software. If it doesn't support your data, you can't do much with it.
Many times, a dashboard software will require you to extract/transform data from one format to other or transfer data from one environment to another, just to be able to input it into their solution. This can be tedious and must be avoided.
Go for dashboard software that directly supports your data sources as-is, without any modification or transfer.
Bonus read: What Should Ecommerce Dashboard Include
2. Data Visualization
Find out which data visualizations are available in your data visualization tool. Many times, you may need to present your insights in a particular graph or chart, due to project requirements or management request.
Ensure that your dashboard software supports all the types of charts & graphs you need for your reporting project. It will help you design effective dashboards.
Here's a sample dashboard built using Ubiq, that showcases different data visualizations.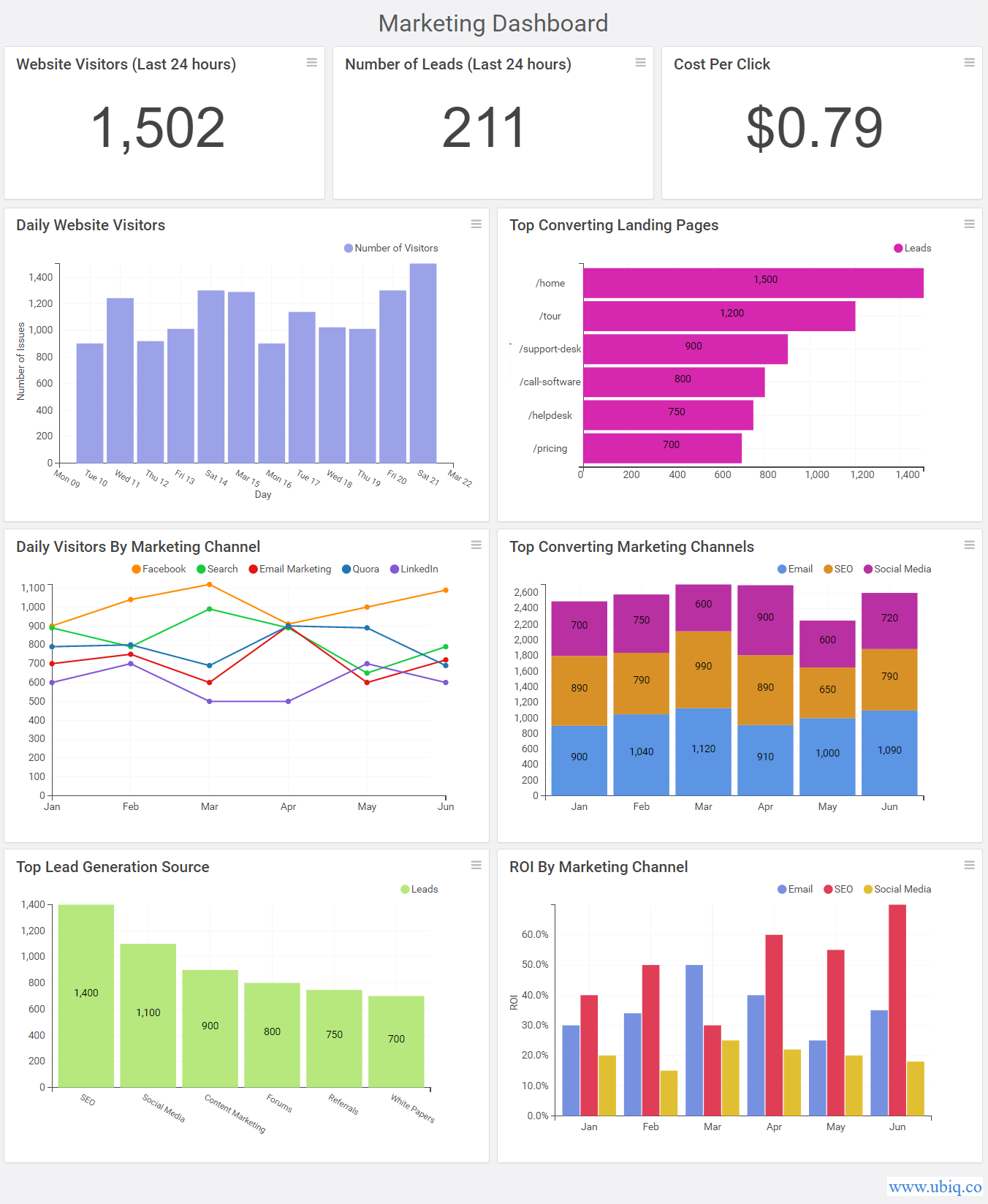 Bonus Read: Business Intelligence Best Practices for Dashboard Design
3. Data Analysis tools
To select the best dashboard software, you need to look beyond dashboards. Once you build dashboards, your users will definitely ask for the ability to analyze data on the fly.
So look at what data analysis tools your dashboard software has to offer. Dashboard filters allow you to slice & dice data with a few clicks, and get specific insights. Similarly, drill-downs allow you to dig deeper into your data and investigate stuff. Here's an example of a dynamic chart filter in Ubiq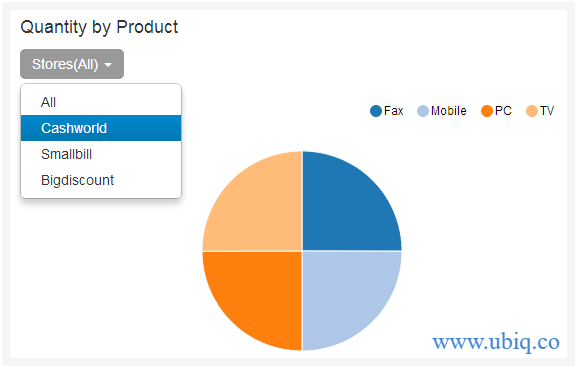 Similarly, does your dashboard software support advanced querying using SQL? Does it allow you to create custom variables & formula to use in your dashboards.
These data analysis features are available in most BI solutions, and you must look for them while evaluating dashboard software.
4. User Access Management
Dashboards have the most impact when you share them with a team. However, it is important to be able to easily add multiple users to your dashboard account, control their access permissions with just a few clicks.
Find out how easily you can add/remove users to your account, assign user roles, as well as share dashboards with them. If your organization uses specific user management tools like Single Sign-On or Active Directory, then check if your dashboard software supports them.
5. Report Delivery
One of the most important criteria to select the best dashboard software, is its report delivery features. It is not enough to simply create dashboards & charts, and inform your team about it. Most of them won't log into your dashboard software to look at your dashboards.
So you must employ different means to send reports to them. Does your dashboard software allow scheduled emails? Can you export dashboards & graphs as PDF or images? Can you export their data as CSV/Text files?
Similarly, not all your users will be able to access dashboards via laptop/desktop. Some of them would like to review your dashboards, while on the move. So, ensure your dashboard software is responsive and mobile-ready.
Hopefully, the above tips will act as a buyer guide and help you choose the best dashboard software. Having said that, there is no such thing as the Best Dashboard Software. It is essential to evaluate various dashboard software in the market and pick the one that meets your requirements and fits your budget. If you want to create business dashboards, reports & charts, you can try Ubiq. We offer a 14-day free trial!