A CEO dashboard helps business leaders and senior management measure business performance and monitor their strategy. It also enables them to understand how their business is doing vis-à-vis goals, and make course correction before it is too late. In this article, we will look at how to build CEO dashboard for your business.
How to Build CEO Dashboard
Here are the steps to build CEO dashboard for your business.
1. Understand Your Target Audience
Building a CEO dashboard can be tricky if you don't understand your audience's requirements. A CEO, and senior management for that matter, is mainly interested in 2 things.
First, there are operational metrics such as revenue, growth, sales, etc. that they would like to monitor on a regular basis. These metrics are common across most businesses.
Second, they are also interested in monitoring strategic performance of initiatives they have undertaken to fulfill business objectives. These metrics vary from organization to organization, and even over a period of time. So these metrics are bound to change frequently.
Unless your CEO dashboard delivers what your target audience is looking for, they will stop using your dashboard soon. So it is important to clearly understand your audience requirements.
Also Read : Key Factors for Choosing The Right BI Tool
2. What KPI Metrics to Display
While every business is unique and tracks its own KPI metrics, there are certain financial numbers important to every business. They are:
Sales Growth – Monthly/Quarterly sales numbers plotted over time, in a line graph.
User growth – Monthly/Quarterly users for your product/services
Revenue Growth by Product/Location – This measures revenue growth by various products/geo-locations/services depending on nature of your business. This will help you understand which parts of your business are most lucrative.
Net Profit – Every CEO will be focused on increasing profits. So it is important to track monthly/quarterly profits. You can also track Gross Profit margin and Net Profit Margin, depending on your target audience.
Revenue Growth by Marketing Channel – Every business employs multiple marketing channels for promotion. It is important to measure revenue by marketing channels to understand which ones work, and which ones need to be optimized.
As mentioned earlier, depending on your business goals, you will also need to include strategic performance KPI metrics in CEO dashboard.
Also Read : Top Data Visualization Best Practices
3. Build CEO Dashboard
Next, you need to build CEO dashboard to track and display metrics. There are 3 steps to build a CEO dashboard.
First, you need to connect your data source to your dashboard software. For example, Ubiq allows you to connect to your data source, with just a couple of clicks.
Next, create CEO metrics & KPIs depending on your user requirements. For example, our drag & drop interface makes it easy to calculate KPI metrics and visualize them using charts, graphs & tables. Here's an example of how to create charts & graphs without any coding.
Ubiq also allows you to write SQL queries, in case you have advanced reporting requirements.
Also Read : Top 5 Visual SQL Query Builder
Finally, share your dashboard with others using URLs, or display them on a widescreen TV for everyone to see. Here's an example of a CEO dashboard built using Ubiq dashboard software.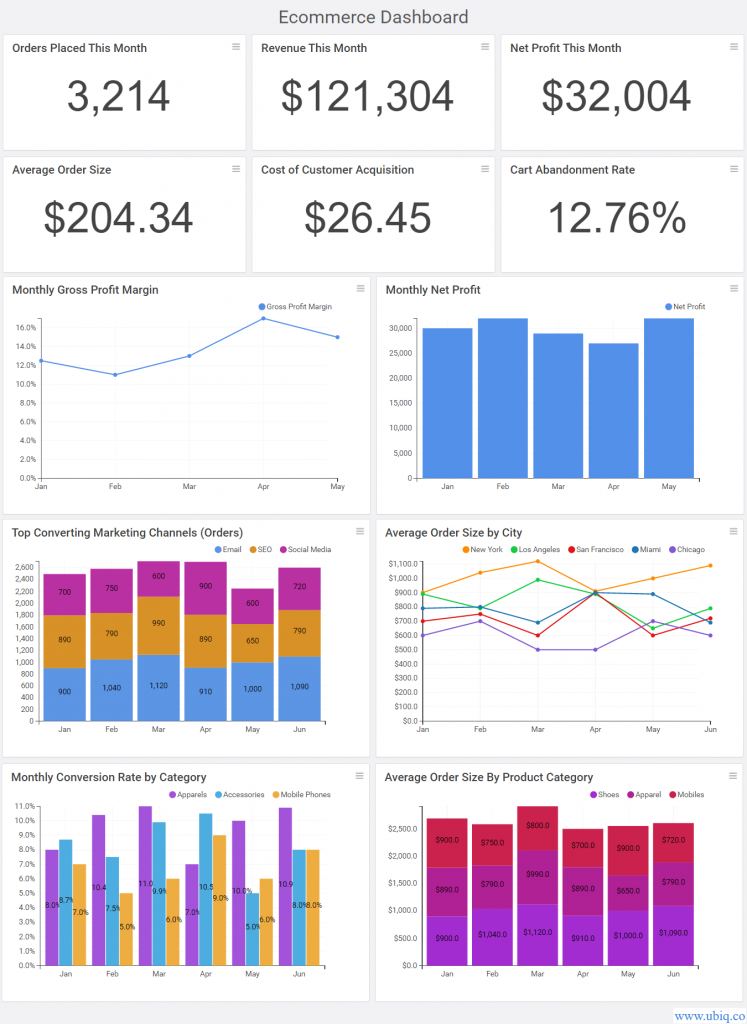 Hopefully, this article will help you build CEO dashboard for your business.
Ubiq makes it easy to visualize data and monitor them in real-time dashboards. Try Ubiq for free.