A successful dashboard is intuitive and insightful. Here are the key components of a successful dashboard to help you design dashboards that enable users to get insights from data and make better decisions.
What Are the Components of a Successful Dashboard?
If you are wondering "What makes a good KPI dashboard?" or "How to create beautiful dashboards?" or "Success factors of dashboards" then read on to understand the components of a successful dashboard.
1. Gather dashboard requirements
The most important component of a successful dashboard is the reporting requirements. Identify the different users who will consume your dashboard as well as the key stakeholders who will sign off on the reporting requirements.
Conduct 2-3 rounds of meetings with them, with a list of questionnaire to understand status quo, and the improvements that they would like to see in it.
Ask them,
Who will use your dashboard? How will it help them?
How frequently will they access your dashboard?Hourly, daily, weekly or monthly? This will tell you how frequently you need to refresh its data.
How do they want the dashboard to be delivered? Via web portal, email, self-service?
Which reports & dashboards do they currently use? Ask them for a copy
Which metrics would they like to see in your dashboards?
Document these requirements and take a sign off to freeze the dashboard requirements and avoid unnecessary iterations.
Bonus Read : What Should Ecommerce KPI Dashboard include
2. Determine the Type of Dashboard
There are different types of dashboards, to cater different types of audiences.
Strategic dashboards – High level dashboards for executives and senior management to help them measure the performance of their strategies.
Analytical dashboards – Data-heavy dashboards with filters and drill-downs for data analysts & business analysts for investigative research of various business questions posed to them by their bosses such as executives & managers.
Operational dashboards – KPI dashboards used by operation managers to monitor KPIs about their processes and departments, on a day-to-day basis, for mostly compliance or pursuit of excellence.
Determine the type of dashboard suitable for your audience, before you proceed to design dashboard mock ups for their review.
Bonus Read : Key Performance Database Metrics You Must Monitor
3. Lucid Layout
One of the most important components of a successful dashboard is an easy to understand layout of charts, graphs and tables. Make sure your dashboard has only up to 12-15 widgets. If you have more, then push them to an auxiliary dashboard.
The 5-second rule for dashboard design states that viewers must be able to get a quick idea of your dashboard within 5 seconds. It allows users to understand information on their own, and make better decisions. Also, such dashboards can be easily shared across teams, without a dedicated presentation to explain it.
While organizing dashboard KPIs & metrics, take a top-down approach. Organize your dashboard metrics into 3 layers – the most important summarized information at the top, followed by trends (timeline, distributions, comparisons) in the middle, and finally detailed data tables at the bottom.
Use a dashboard software to quickly create dashboard mock ups with sample data. Here's an example of dashboard designed in Ubiq.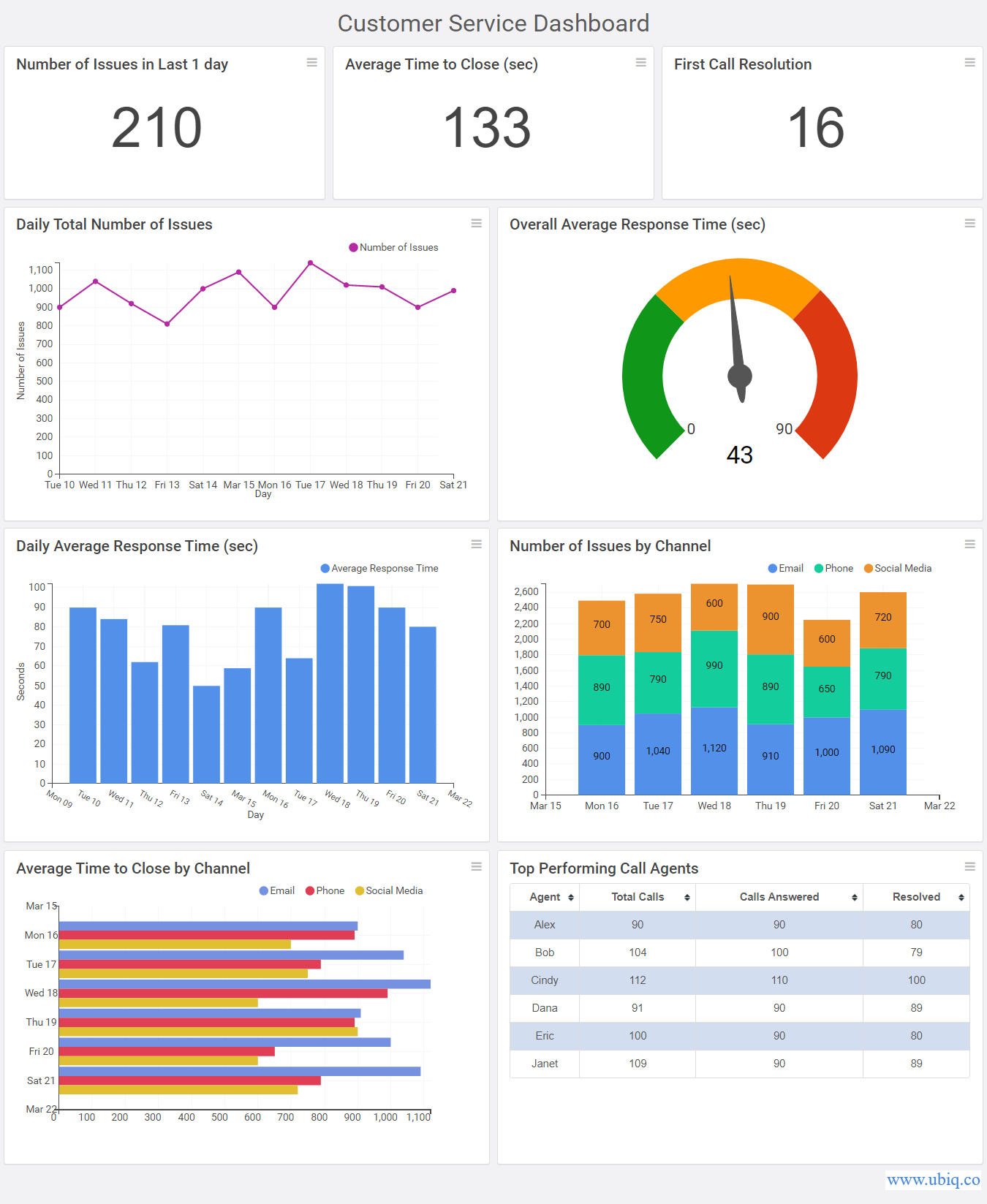 Also, place similar or related dashboard metrics next to each or one below the other, making it easy for your audience to see the connection, make comparisons, and draw insights quickly.
Bonus Read : How to Choose the Right Dashboard Software
4. Use Colors Sparingly
Colors are one of the essential components of a successful dashboard. Dashboards contain many visual elements and can be quite distracting. So use only a sparing color palette to show a coherent and consistent dashboard design. Here's a color picker if you want.
In fact, you can even use colors to group similar metrics & KPIs, as shown in the dashboard below.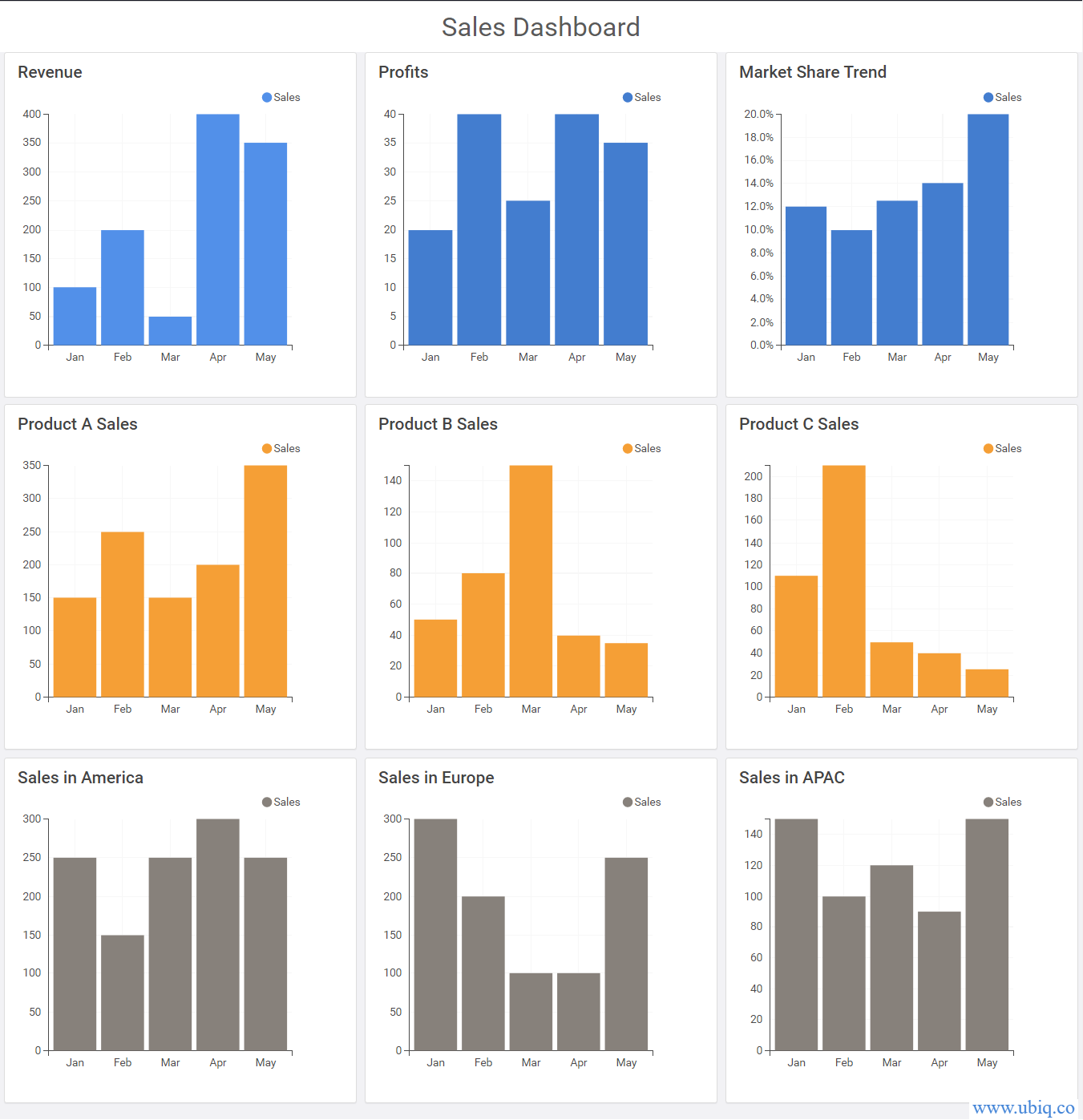 5. Choose the Right Visualization
One of the most crucial components of a successful dashboard is to choose the right visualization to present your information. Look at the 2 visualizations below. In which graph, is it easier to spot the sales trend?


The sales fluctuations are obvious in column chart whereas in a pie chart, you will end up wasting time comparing pie slices and looking at the legend.
Hopefully, the above tips will help you identify the components of a successful dashboard, and design dashboards for your target audience.  If you want to create business dashboards, reports & charts, you can try Ubiq. We offer a 14-day free trial!