Project management KPIs and metrics help you measure project management performance, identify improvement areas and make better decisions. Here are the top 5 project management metrics examples you must track regularly.
Top 5 Project Management KPIs & Metrics to Track Regularly
Here are the top 5 project management KPIs & metrics to monitor regularly. In fact, each project management KPI is a group of metrics that can be tracked individually.
1. Time-based KPIs
Timeliness is one of the most important project management KPI for every business. Here are the key time-based KPIs that you can track for project success:
Cycle Time – Actual total time required to complete a project activity. If your project has many repeatable activities, then you can use cycle time to estimate project completion
On-time completion – It measures what percentage of tasks have completed by their deadlines
Time taken – Total time taken to complete a project
Number of changes – Measures the total number of changes made to the original project. The more changes you make, the more time it will take to complete a project
Hours planned vs Actually spent – Depending on the difference between hours planned vs spent for each activity, you can measure if you are overestimating/underestimating task difficulty and resource availability.
Bonus Read : What makes a good KPI dashboard
2. Budget-based KPIs
It's important to keep your project expenses within the budget, and closely monitor project expenses over time. Here are the top budget-based project management KPIs that you need to assess regularly.
Budget vs Expenses – If you compare the allotted budget vs actual expenses for a project, you can get a good idea about its profitability and ROI.
Cost Performance Index(CPI) – CPI is the ratio of budget to actual expenses for each project phase. It is useful in understanding the value of work done so far, and how much you are ahead or behind the project schedule.
Planned Value (PV) – Planned value is the estimated cost of project tasks/activities as of date of reporting.
Bonus Read : How to Create Effective Dashboards for your Business
3. Quality KPIs
As a team lead/project manager it is your responsibility to deliver high-quality work for your clients, and keep improving it over time. Here are the key quality-based project management KPIs you can use as sample KPIs for project manager role.
Client satisfaction – Satisfied clients are the best advocates of your work. So send a simple survey at the end of key project phases to get customer feedback and share it with your team
Employee Attrition – Unhappy employees will leave your team, and even the organization, and bring down the quality of work. The number of employees that have left your team is a good KPI to understand your management and work environment.
Net Promoter Score – Net Promoter Score (NPS) is a simple way to find out how many your customers would likely recommend your work to others. NPS can be measured through a simple survey. In NPS, survey responses 0-6 are Detractors, 7-8 are Passives, and 9-10 are Promoters. NPS = % Promoters – % Detractors
Bonus Read : How to Create Data Visualization Dashboard
4. Effectiveness KPIs
Project effectiveness is paramount to every business, otherwise it can lead to wasteful expenses and missed goals. Here are the top effectiveness-based project management KPIs and metrics to monitor regularly.
Milestones covered – It is the total number of project milestones covered so far. You can measure overall milestones covered for entire project, as well as those for each phase/team.
Billable utilization – This is the number of hours spent by your team on project-related tasks vs those spent on administrative activities. It's a great way to measure project efficiency.
No. of changes & cancellations – It measures the number of changes and cancellations the client has requested for the project. If there are too many changes and cancellations, it shows that requirement gathering could have been better, and project management needs to be improved.
Bonus Read : Top DevOps Metrics & KPIs to Monitor Regularly
5. Return on Investment (ROI)
Project ROI is one of the most important project management KPIs. It basically measures the financial value of project. It is measured as
Return on Investment = net income on investment / cost of investment
OR
Return on Investment = (net income on investment – cost of investment) *100/ cost of investment
In the second formula, we measure the gains made against cost incurred for project. You can even track ROI for each project phase or activity. For example, you can measure marketing ROI to understand the impact of each marketing channel or campaign.
Use a dashboard software to quickly create project management dashboard and track these project management KPIs and metrics regularly. Here's an example of dashboard designed in Ubiq.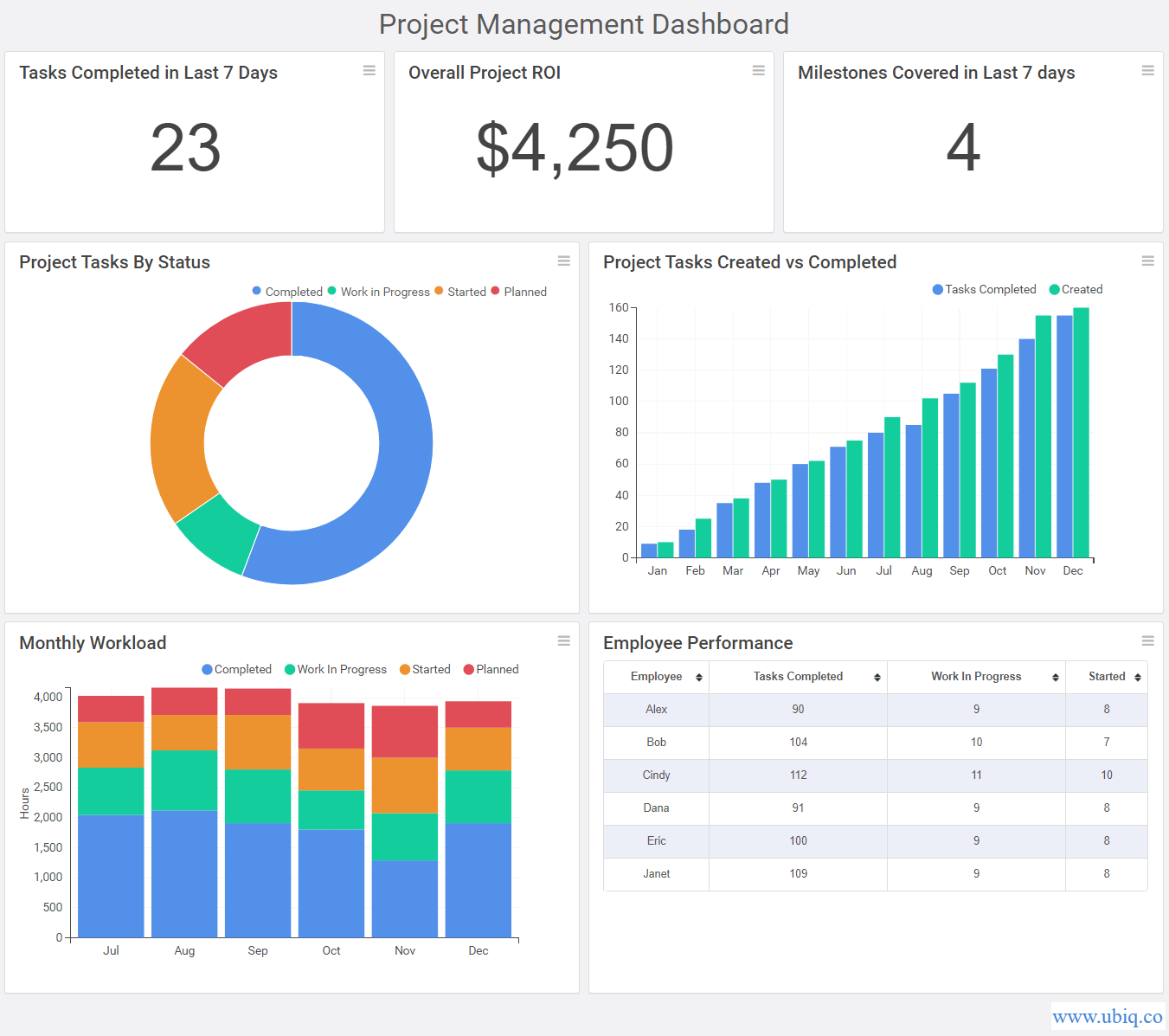 Hopefully, now you easily monitor these key project management KPIs and metrics and improve project performance. If you want to create business dashboards, reports & charts, you can try Ubiq. We offer a 14-day free trial!