Agile Business Intelligence is a powerful BI methodology that enables businesses to easily adapt to continuously evolving BI requirements. Here's a complete guide to agile business intelligence & data analytics that you can use to deploy Agile BI systems for your organization. We will look at Agile Business Intelligence definition, advantages, benefits, agile methodology, best practices & tips.
What is Agile Business Intelligence & Data Analytics
Agile Business Intelligence & Data Analytics adopts an iterative approach to business intelligence that focuses on delivering individual features & benefits to end users at regular intervals of time, instead of delivering only the final product at the end of project. It works on the principle of starting small and making incremental additions to your BI system based on user requirements and changing business conditions. This saves a lot of time in delivering BI systems to organizations and facilitates better change management.
Bonus Read : Business Intelligence Best Practices for Dashboard Design
Advantages & Benefits of Agile Business Intelligence
Here are the key benefits & advantages of agile business intelligence:
Faster delivery – Agile business intelligence uses iterative short development cycles to rapidly deliver product using multiple iterations. The BI system at the end of each cycle/iteration is a workable production-ready system with more features than the previous iteration.
Better User Adoption – Since Agile business intelligence involves business and IT teams working together, it allows IT teams to focus on frequently changing needs of business users. This leads to better user adoption since execution is closer to end-user requirements.
Better ROI – Shorter development cycles mean better ROI, since IT resources are better utilized in developing only features that are relevant to end users.
Bonus Read : How to Create Operational Dashboard for Your Business
Agile Business Intelligence Methodology
Agile BI process involves iterative development cycles each consisting of six key phases. Here are the major phases of agile business intelligence methodology.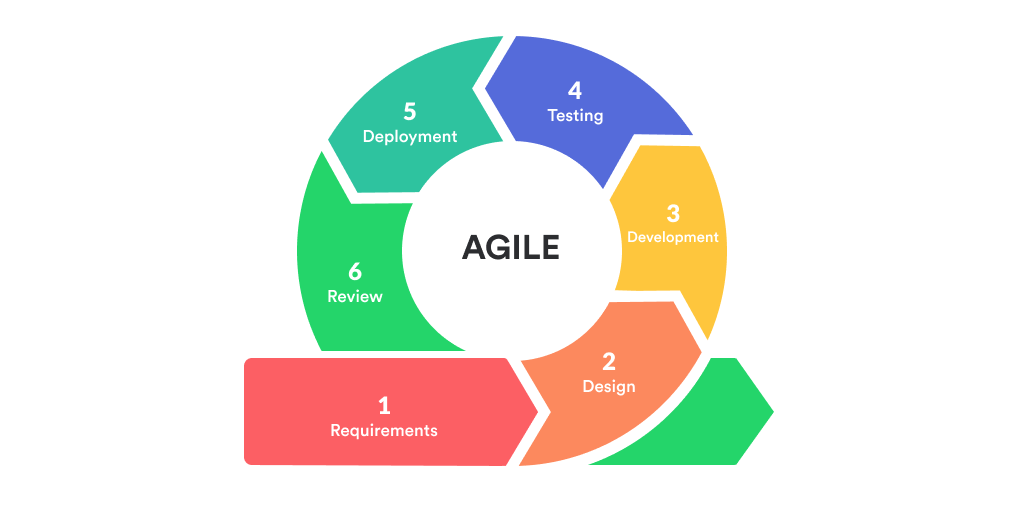 Requirements – In this phase, it is important to meet stakeholders, decision makers and end users to get a comprehensive idea of expected BI capabilities. Document requirements and get stakeholder approval before proceeding further.
Design – Next, you need to design the BI requirements into various features and modules. Use workflow diagrams and charts to clearly document how each process works in your BI system. This will help in subsequent phases.
Development – This is the part where you use a BI software to build the different functionalities of your BI system
Testing – Once you have built your BI system, it is important to test it with sample data & test users, generate and validate reports & deliverables to ensure everything is working as expected.
Deployment – This is when you deploy your BI system into production, with real users
Review – As your BI system runs in production, it is important to review performance, identify & fix issues, and receive feedback that you can execute in the next iteration.
Bonus Read : How to Choose the Best Business Intelligence Software
Agile BI Development Best Practices & Tips
Here are some of the top Agile BI development best practices & tips you can use for your business.
Clearly document how your Agile BI system will work, to set stakeholder expectations
Start with business requirements to define scope of work
Make sure iterations are time-bound
Use incremental and iterative development and deployment
Create a proof of concept for validation and approval, before building your BI system
Each iteration must have data validation, testing and quality checks
Document BI process using flowcharts & diagrams, and share them with stakeholders
Have a formal change management process, which documents change requests, has a change approval process, and involves rigorous testing, before releasing any change into production.
Hopefully, the above article will help you start building an Agile business intelligence & data analytics system for your organization.
Ubiq makes it easy to visualize data in minutes, and monitor in real-time dashboards. Try it Today!