Easy Business Intelligence Dashboard Software
✓ Easily create reports & dashboards

✓ Analyze data using drag & drop

✓ Apply powerful filters & functions

✓ Share reports with your team

✓ Supports local, remote or cloud data
Try ubiq for free!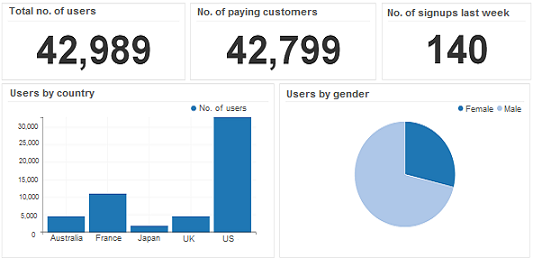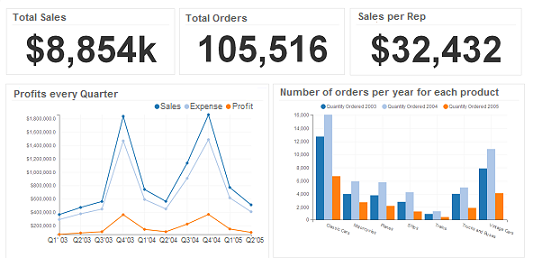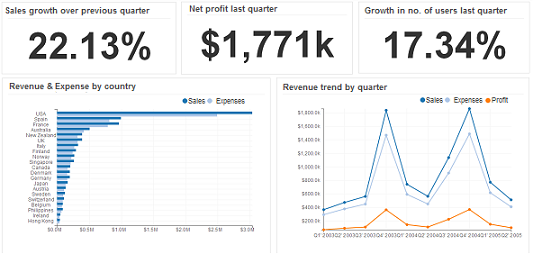 Why use Ubiq?
Ubiq is a Business Intelligence Dashboard Software that lets users create business dashboards to monitor the current status of metrics and key performance indicators (KPI) for their business. Ubiq can create business dashboards tailored to specific roles or departments of your organization. It helps organizations understand and interpret their data, gain insights and make better decisions, faster.
Try it for free!
---
See how easy it is
---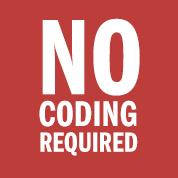 Quickly gain insights and make decisions
Ubiq enables users to create business intelligence dashboards in minutes using drag & drop. It allows users to customize dashboards using point & click. Ubiq is a business intelligence software that includes dashboards that you can view, interact with and personalize to analyze and report data. These business intelligence dashboards help you gain insights quickly and make better decisions, faster. Ubiq combines data and visualizations to provide at-a-glance information dashboards about the status of your business so you can respond quickly. It empowers users to explore data without help from IT.
Real-time business intelligence dashboards
Ubiq Business Intelligence allows users to analyze and report data using interactive real-time dashboards. It lets you monitor the metrics and key performance indicators for your business in real-time and take actions. Ubiq lets you assemble and interact with all kinds of Business information for your organization. It lets you analyze information on business intelligence dashboards and share results with others in real-time. Ubiq lets you monitor your business, provides access to critical business insights with interactive real-time dashboards. It lets you view details of dashboards using real-time filters and drill-down capabilities.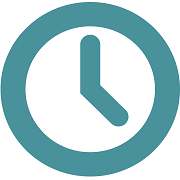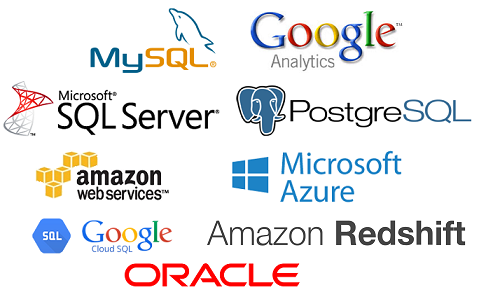 Analyze and report local, remote or cloud data
Ubiq dashboards provide a consolidated view of internal and external data sources directly in a web browser. It enables real-time access to information and ad-hoc reporting on internal and external data anytime, anywhere without relying on IT. Ubiq has the ability to pull real-time data from multiple data sources. It empowers you to get business insights from local, remote or cloud data using interactive dashboards. Analyze and report MySQL, MariaDB, Amazon RDS data. More data sources to be added soon.
Business Intelligence for all kinds of businesses
From startups to SMEs to Enterprise - Ubiq can be deployed for organizations of any size and nature like IT, Retail, Websites, Apps, Ecommerce, etc. Ubiq has a wide range of analytical and reporting capabilities that allow users to build dashboards for specific departments or businesses or roles. It allows you to create a variety of dashboards like Sales dashboards, Executive Dashboards, Management dashboards, etc to monitor all areas of your business. Ubiq empowers business users at every level of an organization - entry level to executive - to quickly get insights, make better decisions and take action. It improves processes and drives performance in all business areas for an organization.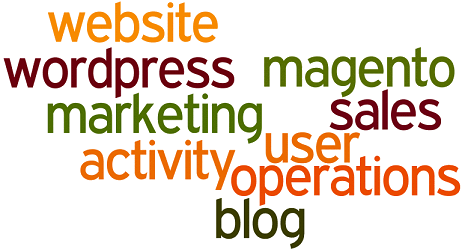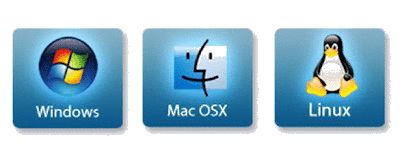 Cross Platform Business Intelligence tool
Ubiq Business Intelligence Software works on Mac, Linux and Windows. It's highly customizable and works on all major browsers and tablets. Ubiq lets users access and interact with dashboards regardless of their location. It allows rapid creation and distribution of interactive business intelligence dashboards to a broad audience. Ubiq enables people to easily share insights and dashboards with others and make informed decisions collaboratively.
Rapid Deployment and Easy to use
Save the weeks or months spent in learning business intelligence solutions. Avoid waiting for a demo or installation of training. Signup and immediately start creating interactive dashboards to view and monitor the status of your business. Ubiq can be deployed in minutes by both business and technical users. Ubiq is a dashboard software that provides self-service BI for quicker understanding of data.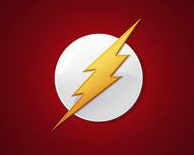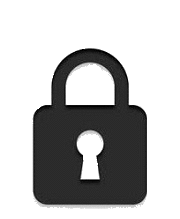 Secure to use
No need to enable remote access or open ports. Securely connect to MySQL on AWS over SSH. For intranet or private network, ubiq ensures the data doesn't leave your network. Ubiq agent sits on your laptop & connects to your databases with read only access. Assign create or view permissions to your team mates.
Try it for free!
Some of our valuable customers across various countries


Click a link to view example
---